San Francisco - First American city
to launch universal health care access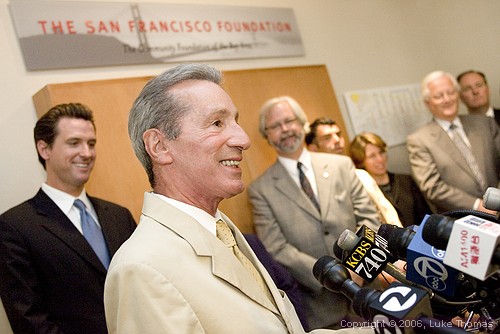 Supervisor Tom Ammiano, whose November legislation speeded stakeholder collaboration, appears with plan co-author Mayor Gavin Newsom for unveiling of universal health care access program. Newsom, at left, hailed the measure as providing "every San Franciscan with access to onoging primary and preventive health care." Seen at right is Tim Paulson, director of the San Francisco Labor Council.
Photo(s) by Luke Thomas
June 20, 2006
San Francisco reshaped the national debate on universal health care today by announcing all uninsured local residents will have access to health care beginning in 2007.
Known as the San Francisco Health Access Plan (SFHAP), it was finalized Monday after 125 days of public and private sector collaboration. San Francisco is the first City in the nation to offer universal health care access.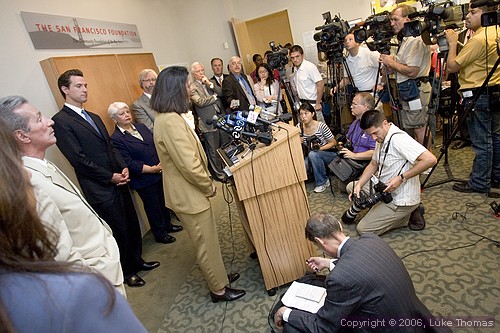 SFHAP agreement is announced by Dr. Sandra R. Hernandez,
Chief Executive Officer of the San Francisco Foundation.
SFHAP retools current public health service delivery and adds participation by private hospitals through existing funding as well mandated private business health coverage for part-time employees.
An array of stakeholders with often conflicting interests - from labor and business leaders to politicians mindful of election season spotlight - stayed together under banner of the Universal Health Care Council (UHC) for those 125 days to craft the plan they universally supported Monday.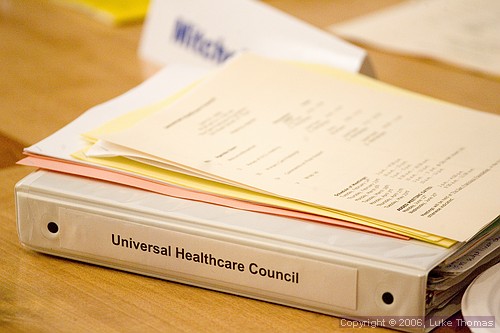 Mayor Gavin Newsom, who convened the UHC, and Supervisor Tom Ammiano, whose part-time employee coverage legislation mandates employer funding which makes SFHAP fully viable, appeared jointly at an 11:30 a.m. press conference at San Francisco Foundation offices.
The two plans are separate but intertwined as Ammiano's legislation is projected to fill a $28 million funding gap for SFHAP.
Dr. Mitch Katz, director of the San Francisco Health Department, reported total SFHAP costs at $198 million.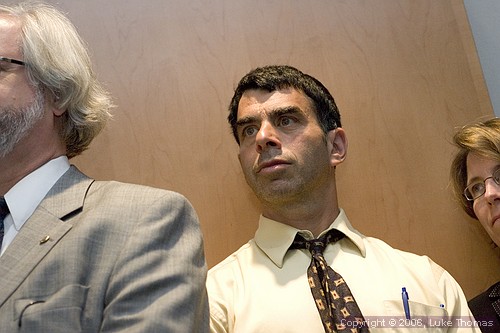 Dr. Mitch Katz
The figure is reached by redirecting $104 million City funds now spent on the uninsured, $56 million raised by beneficiary co-payments ranging from $3 to $201 monthly - and $28 million required employer funding.
Ammiano introduced the measure extending health care coverage to part-time workers at businesses with 20 or more employees on November 22, 2005.
It was quickly decried by business owners, the San Francisco Chamber of Commerce, the San Francisco Small Business Commission, and business lobbyists as developed without input from the business community.
They argued cost could mean the death knell for many businesses, particularly the restaurant industry.
Subsequently Newsom formed the UHC umbrella think-tank including business representatives.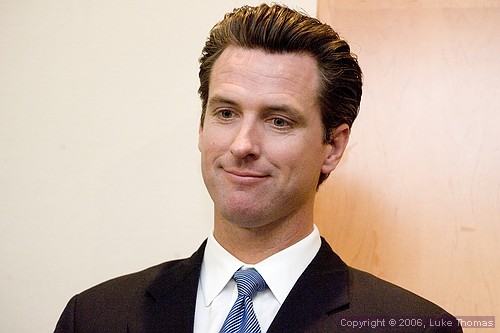 Mayor Gavin Newsom
The Budget Committee of the San Francisco Board of Supervisors will continue consideration of Ammiano's legislation in its 1:00 p.m. City Hall meeting Wednesday.
A veto-proof board majority supports that measure, Ammiano told the Sentinel. Including Ammiano as ordinance author, eight supervisors have committed backing, he said. Only eight board votes are needed to override a mayoral veto.
Indeed, Supervisors Fiona Ma and Bevan Dufty - who often side with business interests - stood with Ammiano at today's press conference as visible reminder of the District 9 supervisor's political strength.
"They all came to Jesus," a happily wide-eyed Ammiano whispered.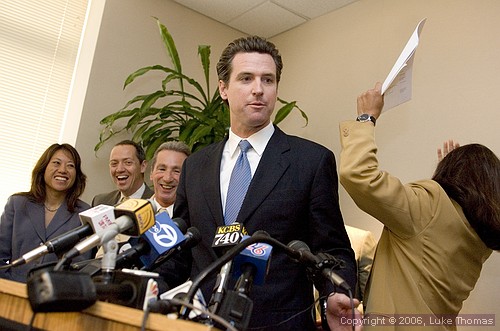 Supervisor Fiona Ma, left, appears with Supervisor Bevan Dufty
in support of Supervisor Ammiano's legislation.
"Universal health care stops being a slogan and now becomes a policy," proclaimed Ammiano.
The mayor supports the Ammiano mandate, although Newsom is attempting to mitigate impact on business owners through staggered implementation as one possibility, his office reported.
As health care is increasingly considered a human right nationwide - and in a City which long ago championed that right - Newsom faces re-election in November, 2007.
Dufty faces contested re-election this November and Ma seeks a large win in her November campaign for the California Assembly.
Business leaders continue to lobby for a higher employee threshold for required health coverage.
"We're optimistic that Tom will continue negotiation to bring the threshold level of number of employees to a more reasonable level to better support small business and small restaurants," Kevin Westlye, director of the Golden Gate Restaurant Association (GGRA), told the Sentinel.
Owner of The Rose Pistola restaurant, one of the 25 largest revenue producing restaurants in San Francisco, said current version of the Ammiano mandate would close her restaurant.
"Assuming the ordinance that Tom is going to put through... which is entirely different than the work we've done at the Health Council... we would still need to come up with $100,000," explained Laura Thomas, proprietor of The Rose Pistola. "Our taxable income last year - and that's not cash flow because we have debt we have to cover - was $42,000 last year."
Steve Falk, president of the San Francisco Chamber of Commerce, said the mandate disproportionately targets small business.
"The business community was glad to be part of the process," Falk reflected to the Sentinel.
"The concern is the financing and the mandate - it targets in our opinion the wrong size businesses.
"For the most part large profitable employers in this City offer full health care insurance.
"But as we know this is a City of entrepreneurs, smaller growing businesses.
"This mandate still targets the most vulnerable business community as to opposed to what we would propose is a widespread mandate that is affordable, fair and equitable," Falk stated.
Michael O'Connor, owner of The Independent nightclub and member of the San Francisco Small Business Commission, was more harsh in his assessment.
"There has been no good faith attempt from the architects of the Ammiano legislation to look at how it's going to affect the operation of medium size businesses to small businesses," O'Connor told the Sentinel.
"That tells me that we as small business people have absolutely no significant, no importance, no relevance, in the gamesmanship of City Hall."
Other UHC members praised direction started by the Ammiano proposal.
"The council dedicated an enormous amount of collective spirit, deep expertise, and elbow grease to craft these consensus recommendation," reported Dr. Sandra Hernandez who co-chaired UHC negotiations with Lloyd Dean, the chief operating officer for Catholic Healthcare West.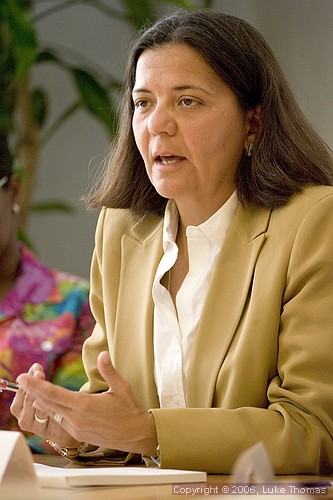 Sandra Hernandez
Some 82,000 uninsured San Franciscans will have access to preventive care, primary care, specialty care, urgent and emergency care, laboratory, inpatient hospitalization, x-ray and pharmaceuticals under SFHAP.
SFHAP is not considered health care insurance because it cannot be used outside of San Francisco.
All beneficiaries would receive a medical care ID card and a "home for medical intake," Dr. Katz added.
####