Mayor Newsom welcomes
US Olympic Committee
to San Francisco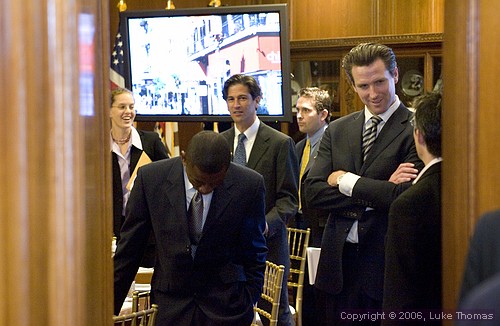 Mayor Newsom speaks with USOC members after a working meeting to discuss San Francisco's potential bid to host the 2016 Olympic Games.
Photo(s) by Luke Thomas
From the Mayors Office of Communications
May 18, 2006
San Francisco, CA - Mayor Newsom today welcomed a team from the US Olympic Committee (USOC) to San Francisco, to discuss the city's potential for bidding to host the 2016 Olympic Games. During a two-hour meeting, Mayor Newsom was supported by a team of Olympians, government and business leaders from San Francisco and the Bay Area.
"We have a beautiful city and region, fantastic conditions for sport and a solid base of existing venues to build on," said Mayor Newsom: "I'm very excited about the potential for San Francisco to host the 2016 Olympic Games. Values like fair play, tolerance, respect for diversity and our love of sport are things we share with the Olympic Movement."
Announcing the formation of a San Francisco 2016 Exploratory Committee to further evaluate the potential for bidding on and hosting the Games of the XXXI Olympiad, Mayor Newsom added: "I believe we have the fundamental attributes to be an outstanding host city for the 2016 Olympic Games. Over the next months, the San Francisco 2016 Exploratory Committee will delve more deeply into several key questions: what are the fiscal impacts of hosting the Olympic Games, what is the best strategy for maximizing the use of existing venues while minimizing the costs of creating new venues, how to provide the best possible plan for the athletes and how to ensure the best legacy from the Games for Bay Area sports and for local communities."
Anne Cribbs, Olympian, said: "The exceptional training and competition conditions found in and around San Francisco mean the Bay Area is home to a huge number of Olympians and Paralympians. Bay Area Olympians will continue their support for San Francisco's Olympic bidding, to ensure a 2016 Games that would offer excellent competition conditions and enabling the world's top athletes to reach their full potential."
Mayor Newsom also announced his pick to manage the San Francisco 2016 Exploratory Committee, Scott Givens. Mr. Givens is a veteran of five Olympic Games, most recently as part of the International Olympic Committee's team of experts for the Torino 2006 Olympic Winter Games. Mr. Givens also served as Managing Director for Creative and Ceremonies at the Salt Lake 2002 Olympic Winter Games.
In briefing the San Francisco team, the USOC underscored that it has not yet decided whether to submit a US bid for 2016 and will only do so after a careful and comprehensive evaluation of potential applicant cities. Those wishing to express their support for and learn more about the San Francisco 2016 Exploratory Committee can do so at www.sanfrancisco2016.org.
In addition to Mayor Newsom, the San Francisco participants in today's meeting were: Andrew J. Ball, President and CEO, Webcor Builders; Kofi Bonner, President, Bay Area Urban Land Division, Lennar; Todd Bradley, Executive Vice President, Personal Systems Group, HP; Anne Cribbs, President & CEO, Bay Area Sports Organising Committee; 1960 Olympian; Dylan Casey, 2000 Olympian; David Crane, Special Advisor to Governor Schwarzenegger for Jobs and Economic Growth; Scott Givens, The Givens Company; Warren Hellman, Hellman & Friedman; Jim Wunderman, President & CEO, Bay Area Council.
Present from the USOC were USOC Executive Team visit to San Francisco : USOC bios
Executive summary, followed by detailed bios
Peter Ueberroth
Bob Ctvrtlik
Jim Scherr
George Hirthler
Darryl Siebel
Mark HendersoPeter Ueberroth, Chairman / President; Bob Ctvrtlik, one of the three IOC members for the USA; Jim Scherr, the first Olympian to serve as CEO of the USOC; George Hirthler who is serving the USOC in an advisory capacity; Darryl Siebel, Director of Communications for the USOC since 2003; Mark Henderson, Chairman of the USOC Athlete's Commission; and Bob Fasulo, the USOC's director of international relations.

####