Bay Area cities battle over flagship
USS Iowa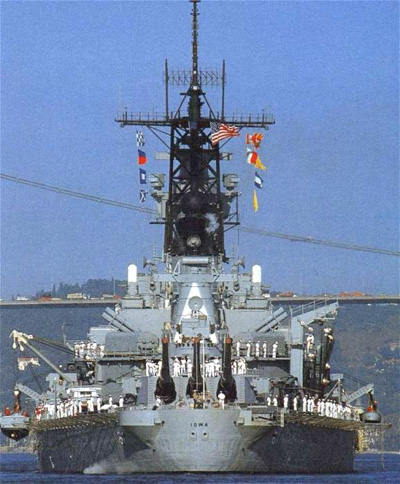 USS Iowa
US Navy photo
By Anna Molin, Bay City News Service
May 14, 2006
Bay Area cities are battling over the USS Iowa, the World War II and Korean War Navy flagship now mothballed in Suisun Bay north of San Francisco and awaiting donation for use as a museum in California.
Organizations in San Francisco, Stockton and Vallejo have all spent years working to anchor the 45,000-ton, 887-feet-3-inches long ship in their city ports.
Interested parties have until today to submit a letter of intent and until Sept. 29 to send in an official application to the Navy Sea Systems Command, which oversees navy ship donations.
Stockton's Battleship Iowa Museum-Memorial Foundation project manager Bob Rogers said Friday he personally traveled to Washington, D.C., a week and a half ago to present Stockton's interest firsthand.
"If we are fortunate enough to receive the ship, we will build the best museum we can and create a world-class museum that will be the centerpiece of the port of Stockton and a major tourist attraction," Rogers said.
Rogers thinks Stockton is in a favorable position because the port has offered to make available 1,000 feet of docking space, three bases of 30,000-square-feet each, 15 acres of land and a 90,000-square-feet water front building, all along the San Joaquin River at a total value of $33 million. Additionally, the port has agreed to lease the area to the foundation for $1 a year for 50 years, Rogers said.
The three bays would feature different activities, including a museum store, exhibition, cafe, lecture hall and orientation theatre, with the USS Iowa docked at Berth 14 at Rough and Ready Island, a former Naval base, Rogers said.
Although the ship comes as a donation, the cost of moving and refurbishing the fleet into a museum would land in the millions.
San Francisco looked just a few weeks ago as if it might be out of the running when the board of supervisors decided they didn't want a naval ship in its port.
But, the port of San Francisco commission recently decided to give the San Francisco's Historic Ships Memorial at Pacific Square a chance to come up with a financial plan. The Historic Ships Memorial at Pacific Square has fought for eight years to berth the battleship at Fisherman's Wharf.
Vallejo also recently joined the list of cities interested in the ship with a plan to incorporate it in a historical district at Mare Island Naval Shipyard.
Spokespersons for San Francisco's Historic Ships Memorial at Pacific Square and the city of Vallejo did not return calls seeking comment Friday afternoon.
Copyright © 2006 by Bay City News, Inc. -- Republication, Rebroadcast or any other Reuse without the express written consent of Bay City News, Inc. is prohibited.
####