San Francisco burglar posing as utility worker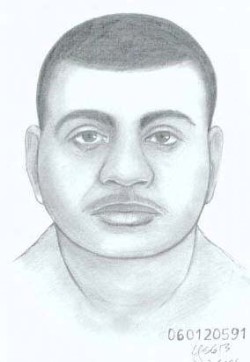 San Francisco Police Aritist Sketch
Bay City News Service
February 18, 2006
SAN FRANCISCO (BCN) -- A burglar is working the west side of San Francisco, dressing up like a utility worker to enter homes and then steal money and jewelry, according to police.
The San Francisco Police Department Friday issued a warning to residents of the Richmond and Taraval districts that the burglar, who poses as a water department employee, is operating in the area.
Dressed in a gray shirt with some type of identification card attached, the suspect comes to the door and says he needs to check the water pressure.
According to police, the man asks residents to go outside and tap on the pipes with an object he gives them, while he checks the water pressure inside. While they are out he steals cash and jewelry from his victims, who are usually elderly.
The suspect looks to be in his 30s or 40s and has a heavy build and brown hair and eyes, according to the department. He is described as Hispanic and speaks with an accent.
The burglar has struck twice in the same manner in the last two weeks, according to police.
Police recommend that residents do not allow utility workers into their homes without first calling the utility company to find out if a worker has been sent.

Copyright © 2006 by Bay City News, Inc. -- Republication, Rebroadcast or any other Reuse without the express written consent of Bay City News, Inc. is prohibited.
####