Joe Alioto-Veronese to Open
State Senate Exploratory Committee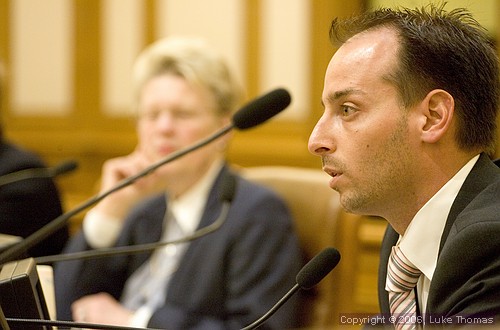 San Francisco Police Commissioner Joe Alioto-Veronese
Photo(s) by Luke Thomas
From Joe Alioto-Veronese

June 4, 2007
San Francisco -- On Monday, June 4th Police Commissioner Joseph Alioto Veronese will officially file the necessary paperwork with the California Fair Political Practices Commission to form an exploratory committee to become an official candidate in the Democratic primary for California's 3rd State Senate District. The seat is currently held by Carol Midgen, who has already drawn a challenge from State Assemblyman Mark Leno.
Alioto-Veronese, 34, was appointed in 2004 by Mayor Gavin Newsom to the San Francisco Police Commission. Recently he cast the courageous deciding and historic toward police reform to make Theresa Sparks as the first transgender president of the City's Police Commission.
"California's political system is broke and needs some serious change and people with the experience to deliver change. Government needs more transparency and accountability. On the Police Commission, I've fought to deliver it. I plan on speaking directly to voters about universal health care, stronger education funding, and protecting our environment. I'll leave the special interest politics to the insider politicians. I plan on fighting for families," said Alioto-Veronese. Alioto-Veronese is supported by scores of real Californians fed up with the politics of yesterday and looking for real change.
Joe Alioto Veronese is the only candidate with a business and a residence in Sonoma County and deep roots in San Francisco. Alioto-Veronese served San Francisco as a peace officer for eight years prior to practicing law with his family firm, specializing in fighting work place discrimination. Joe earned a reputation as a bull-dog for victims as a co-counsel in the historical $132 million race discrimination case against Interstate Brands Corp., and a $25 million verdict against Universal Tobacco Leaf Corp.
Joe has been married to Julie Gilman Veronese since 2006.
####