CHAOS, VIOLENCE and EMPTY RHETORIC
Board of Supervisors hear pleas for manifest intervention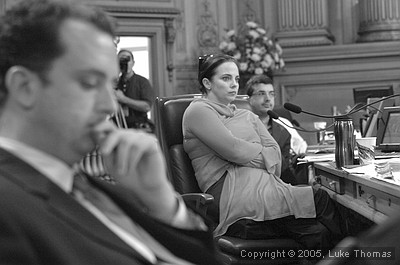 Photo(s) by Luke Thomas
By Pat Murphy
November 3, 2005
The San Francisco Board of Supervisors will establish a standing Select Committee on Ending Gun and Gang Violence, possibly as early as next Wednesday.
Supervisor Michela Alioto-Pier, chair of the Rules Committee, told the Sentinel last night she is agreeable to Supervisor Sophie Maxwell's request for a rule change permitting creation of the Select Committee. The Rules Committee meets November 9.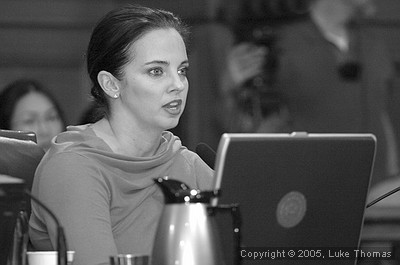 Supervisor Michela Alioto-Pier
Supervisor Tom Ammiano urged Maxwell to make the request following a five-hour Board of Supervisors hearing called by Maxwell on deadly violence and city response. Ammiano and Supervisor Ross Mirkarimi co-sponsored the hearing.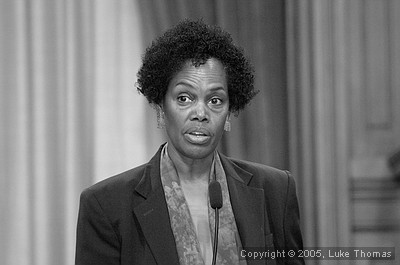 Supervisor Sophie Maxwell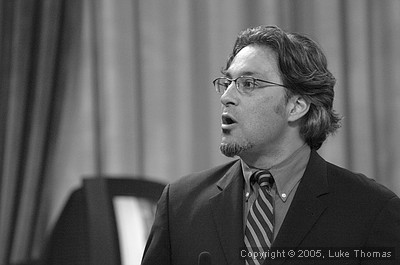 Supervisor Ross Mirkarimi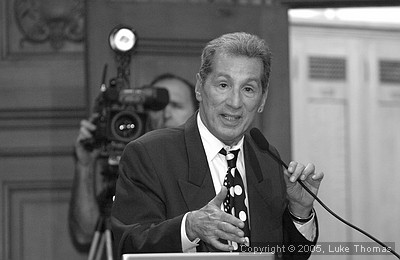 Supervisor Tom Ammiano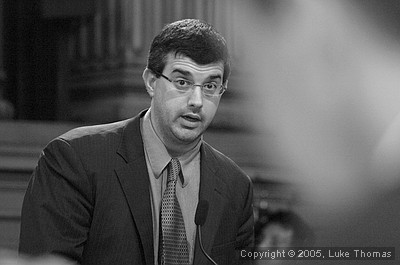 Supervisor Chris Daly
Jim Queen, a founding member of the African American Police Relations Board and current president of the Juvenile Probation Commission, captured overview of many speakers.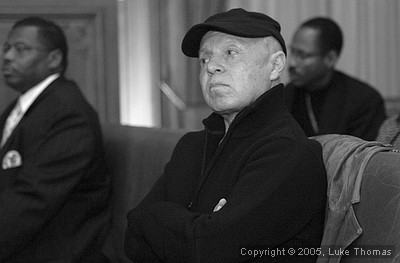 Jim Queen: THIRTY-EIGHT YEAR VETERAN
of community-police relations advocacy.

"I started in this business thirty-eight years ago before some of you were born. I made a vow to love and serve the people," Queen began.
"At the time, the issues we are talking about were happening also. Kids were getting killed, people were getting murdered.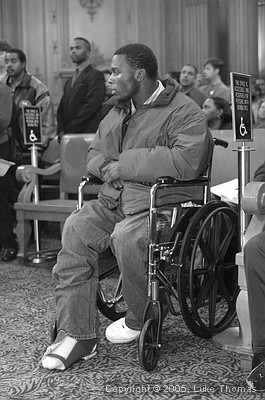 SHOT WHILE VISITING GIRLFRIEND -
Twenty-two-year-old Larry Dwayne, shot 15 times two
weeks ago, implored broad-based city and community
action to end violence.

"It's now thirty-eight years later. For the last five years my colleagues from the African American Police Community Relations Board decided that after an incident that happened…decided that after an incident occurred…instead of doing a protest, instead of getting in front of the mic, we should try to bring some systematic changes with the police department.
"We worked for five years. We worked under several mayors. We worked under several chiefs.
"What I'm disturbed about is that on August 5 this mayor agreed with the proposal that we had put forward, and would fundamentally restructure the way policing is done in San Francisco. Meaning for the first time when the police officers are trained in the art and the science of community policing.
"They would show some respect for the community and therefore gain some respect.
"The Mayor said, 'I'm going to do that - that's an excellent idea.'
"We also said as part of our proposal, after we totally interact with the ten police stations, two police lieutenants would be training under the guidance of Police Lieutenant Con Johnson to fundamentally restructure, we said that the community should do a district based plan about the resources.
"I keep hearing from Supervisor Ross Mirkarimi, and many other people, this city is in chaos. We' got Project Disconnect and several thousand initiatives going on, and nobody's talking to each other. The departments are not talking to each other.
"We came up with the concept of how you bring all those things together guided by the community. It's not going to happen unless it's guided by the community because it's the community that's going to tell everyone how it should be done.
"And under that authority things can begin to happen, things can begin to change. We can bring all those disconnected projects into one system, we can begin to connect.
"Nobody's paid any attention. Somebody said nobody's going to dictate, but as a public servant we do. As a community activist I listen and I respect my community - I don't tell them, they tell us.
"We've been here to awhile and we've done it for a long time.
"My question is this: If you're serious, if you're serious…I want to know tonight are you going to get behind the African American Police Community Relations Board and tell the mayor with all due respect that we want this implemented?
"I am very frustrated. I told you earlier, Supervisor Maxwell, that this may be the last hearing that I intend to come to if there's not going to be any action.
"If you're not going to do that, if you're not going to talk the walk and walk the talk, I think it is up to us…to shut the city down.
"So please get up out of these chambers and walk over to the mayor…and tell him 'no more talk.'"
For her part, Police Chief Heather Fong detailed drop in crime statistics, and schedule for development of community policing through Project CitySafe.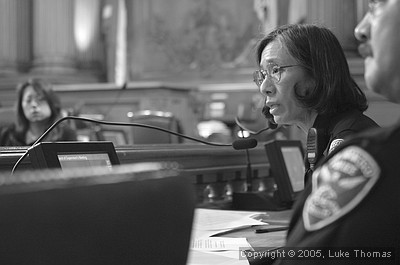 Police Chief Heather Fong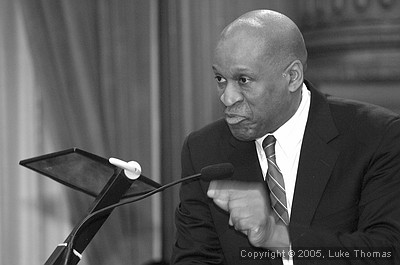 Community activist, Joe Blue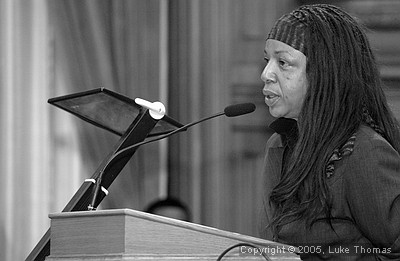 Claer Project's Sharen Hewitt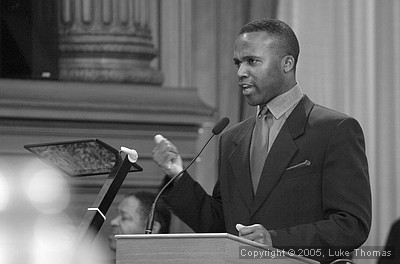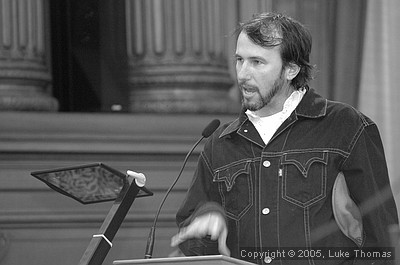 District 5 resident and community activist, Michael O'Conner.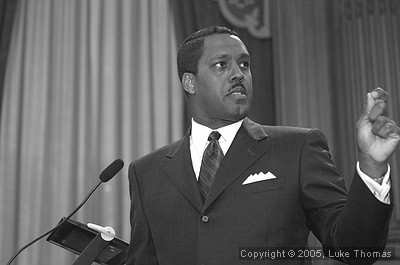 Minister Christopher Mohammad, Nation of Islam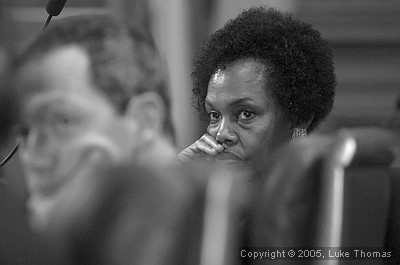 ####