City cement trucks did not plough into Waldeck's Office Supplies
August 23, 2006
CORRECTION
The Sentinel yesterday inaccurately reported City cement trucks had ploughed into Waldeck's Office Supplies.
No City cement trucks were involved in the break-in and minor burglary.
Police telephoned owner Clifford Waldeck Tuesday morning to report a San Francisco Water Department cement street cover was used to gain entry.
This writer regrets the error.

Cement street cover as it was found in Waldeck's Office Supply entry.
Photos by Cifford Waldeck
Waldeck's has won numerous awards as a San Francisco Green Business.
"As I've been updating my business automation the last few days in anticipation of improved Waldeck's opportunities, I woke up early this morning feeling especially good about the future of Waldeck's, Waldeck told the Sentinel.

"I must have jinxed myself.

"At 6:30 a.m., got a call from SFPD. Waldeck's had been broken in to, the front door smashed by a San Francisco Water Department cement cover and a bunch of fine pens, some rolled coins and other merchandise stolen.

"This is very discouraging but I will keep my positive attitude... I won't let the bastards get me down!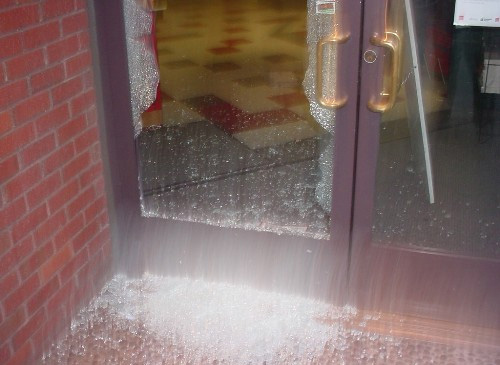 "Alas, the joys of retail business ownership," sighed Waldeck.
####