3rd anniversary of Iraq war draws
large crowd of San Francisco
protestors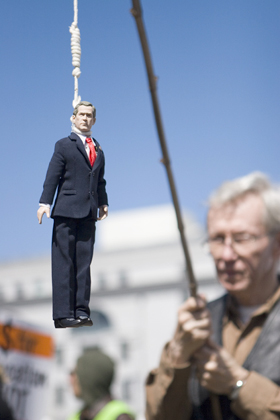 Photo(s) by Sean Posey
Bay City News Service
March 18, 2006
A diverse crowd of demonstrators filled nearly eight city blocks in San Francisco today and marched in the area of the Civic Center Plaza to protest the war in Iraq.
Today marks the third anniversary of the beginning of the war.
Protestors carried signs that read "The World Can't Wait to Drive Out the Bush Regime'' and "No More War in Occupation.''
Live music from the activist group Moises For Peace filtered through the area as demonstrators danced and peacefully paraded through the streets.
"The crowd is not large enough. American citizens should be on the streets protesting because our constitution allows it,'' said Belvedere resident Lorna Hall. "I am opposed to everything this administration stands (for),'' she added.
The San Francisco Police Department has temporarily closed off streets around the Civic Center Plaza for the protest. Officers are advising people planning to travel to the protest area to take public transportation.
No protest-related arrests have been made, police reported.
Today's march was sponsored by the International A.N.S.W.E.R. Coalition, which stands for Act Now to Stop War and End Racism.
The protest is set to end at 4 p.m. in Civic Center Plaza.
Across the bay in Walnut Creek, anti-war protestors participated in a "Stop the War In Iraq'' march and rally in Civic Park. The march was sponsored by United for Peace and Justice in Northern California and Tri-Valley Cares.
Bob Hanson, co-chair of the Mt. Diablo Peace and Justice Center, said about 1,000 people gathered for the demonstration. He added that Anne Roessler, of Military Families Speak Out, gave a moving speech to the crowd about the impact the war has had on her family and her son, who is currently serving in the military.
Twenty other local peace organizations attended the east-bay demonstration, Hanson said.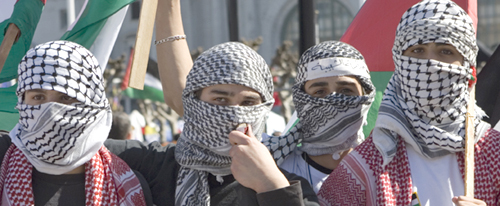 Copyright © 2006 by Bay City News, Inc. -- Republication, Rebroadcast or any other Reuse without the express written consent of Bay City News, Inc. is prohibited.
####