Heart of Chinatown paved with city promotion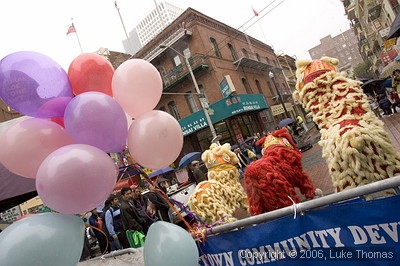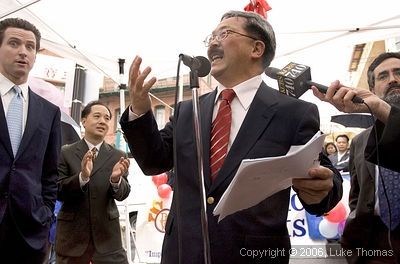 San Francisco City Administrator Ed Lee details benefit
of Waverly Place promotion from alleway to street
with, from right, Board of Supervisors President Aaron Peskin,
Waverly Place Merchants Association President Ed Jew,
and Mayor Gavin Newsom expressing we-got-em-all-together note.
Photo(s) by Luke Thomas
February 2, 2006
That very San Francisco wayside where ghosts of opium dens, brothels, and Tong Wars still reflect off the fog yesterday strutted a makeover with all Chinatown cheering.
Waverly Place, a jewel of worldwide tourist itineraries but long officially orphaned as an alleyway, became a well groomed city street.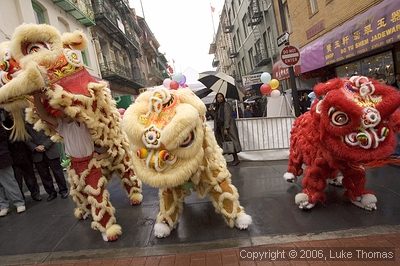 Also known as "The Street of Painted Balconies" with ambience of New Orleans, the incorruptibly San Francisco stretch of Chinatown can only be admired from the street. Most buildings are temples or private family associations fanning outsider imagination beyond uninitiated street view.
For those who look down, the street is now among most beautiful in the city.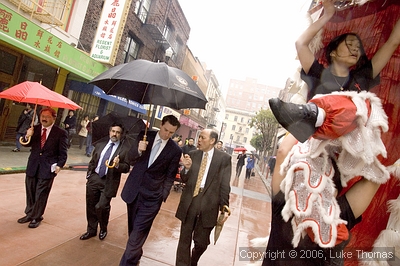 The transition from alleyway to street brings ongoing city cleaning, new pavement, underground electrical wiring, refurbished sewer, and more face for Chinatown self-esteem. Until now, as an alleyway, it was on its own for continual care.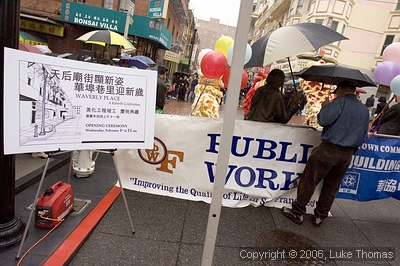 Waverly Place, which stretches from Sacramento to Washington Streets off Grant Avenue, centers Chinatown history, explained Ed Jew, president of the Waverly Place Merchants Association.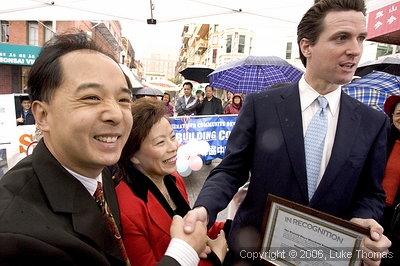 "What's most important is that we understand the history of the street," Jew recalled.
"We understand that this is the center of a very important community in San Francisco.
"All of its leaders are here today."
Gathered in indifference to soaking rain, their uniform celebration did not miss Mayor Gavin Newsom's note.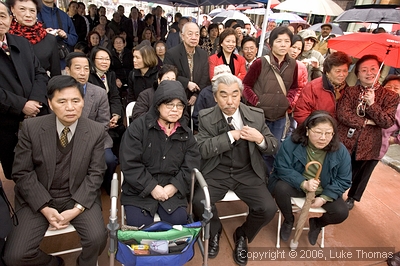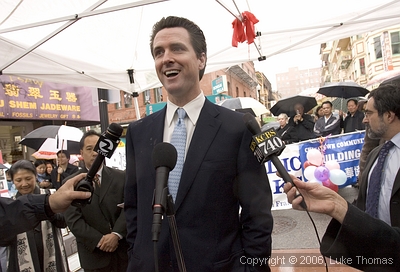 "Let me speak of that spirit which Ed Jew just brought up," Newsom began.
"I never thought I'd be in the same place with Rose Pak, with you, with Gordon Chin, with Aaron Peskin...that's what it's all about.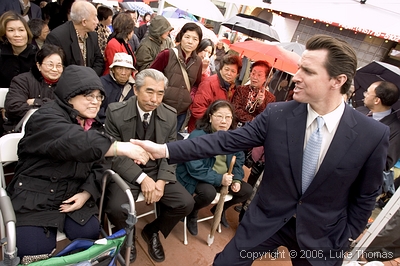 "It's nice to begin the New Year with the recognition that we're all in this together and that we can put aside our differences periodically and work to the advancement of the community."
Waverly Place is among 33 Chinatown alleyways scheduled for promotion to street status.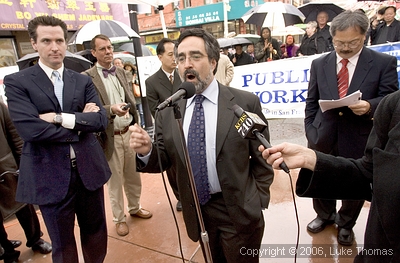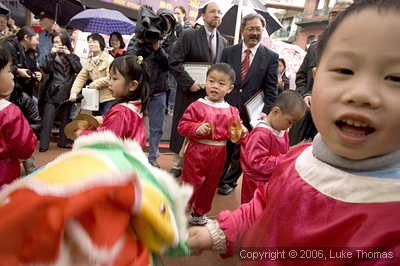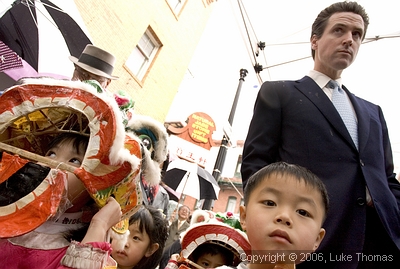 ####