Coroner confirms Grateful Dead keyboardist death
a suicide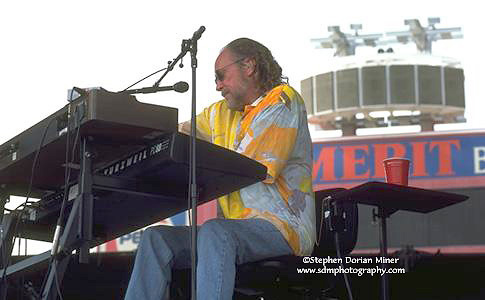 Vince Welnick peforming with the Grateful Dead
at UNLV's Silver Bowl Stadium, Las Vegas, May 21, 1995.
Photo(s) by Stephen Dorian Miner
By James Lanaras, Bay City News Service
June 7, 2006
SANTA ROSA (BCN) - The Sonoma County Coroner's Office confirmed today that former Grateful Dead keyboardist Vince Welnick committed suicide Friday at his Forestville home.
Coroner's Sgt. Will Wallman said Welnick's family has requested that no other details be released. The autopsy was completed on Monday.
Welnick played keyboards for the Grateful Dead between 1990 and 1995 when guitarist Jerry Garcia died. He also played with the San Francisco band The Tubes and with Todd Rungren before joining the Grateful Dead.
After Garcia died, Welnick played with the Grateful Dead's Bob Weir and Mickey Hart. On the Grateful Dead Web site, the band said, "His service to and love for the Grateful Dead were heart felt and essential. He had a loving soul and a joy in music that we were lucky to share. We grieve especially for his widow Lori and his sister Nancy, and the rest of his family.
"May the four winds blow him safely home.''
Copyright © 2006 by Bay City News, Inc. -- Republication, Rebroadcast or any other Reuse without the express written consent of Bay City News, Inc. is prohibited.
####