Warning: West coast con artist may strike Bay Area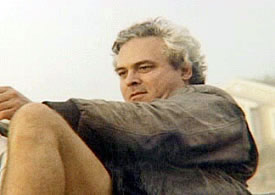 Leonard Weston Ramey Jr.
Photo courtesy ABC7 News
By James Lanaras, Bay City News Service
June 10, 2006
Oregon authorities believe a con artist posing as an investor is living somewhere in the Bay Area.
The Clackamas County Sheriff's Office reported Leonard Weston Ramey Jr., 59, was seen recently in San Rafael and Berkeley.
The FBI has Ramey on its list of 10 most wanted white-collar criminals. The FBI believes Ramey has been stealing money from family, friends and "clients'' in California, Oregon and Washington since the 1980s.
Ramey presents himself as a lawyer, a securities stockbroker, an expert in financial marketing or the owner of a fictitious company.
He has at least 15 aliases and is known to eat breakfast regularly in restaurants where he orders Spanish omelets with a glass of milk, the FBI reported. He rents or leases vehicles, is addicted to gambling, plays the trumpet and wears a horse head ring on his left ring finger.
Oregon officials say Ramey, known there as Kenneth Walden, bilked one Oregon family of more than $300,000 before disappearing in 2001. There are outstanding warrants for his arrest in Oregon and Washington.
The FBI reported Ramey was last seen on Oct. 3, 2002 in Incline Village, Nev. near Lake Tahoe but disappeared immediately thereafter. Ramey is white, 5 feet 11 inches to 6 feet 2 inches tall, weighs 190 to 220 pounds and has salt-and-pepper gray hair and brown eyes.
The FBI reports he is wanted for aggravated theft in the first degree, unlawful flight to avoid prosecution, racketeering, money laundering and other offenses.
Copyright © 2006 by Bay City News, Inc. -- Republication, Rebroadcast or any other Reuse without the express written consent of Bay City News, Inc. is prohibited.
####