West Nile Virus more likely
in San Francisco this year, health officials warn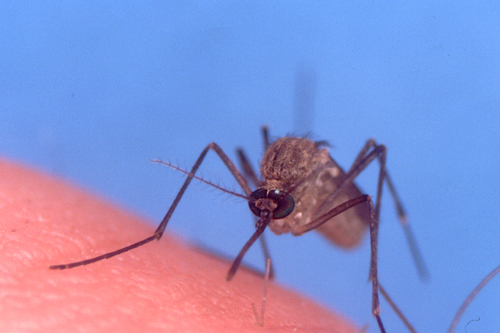 Photo courtesy U.S. Geological Survey
Bay City News Service
May 30, 2006
SAN FRANCISCO (BCN) - San Franciscans should take extra steps to protect themselves from West Nile Virus this year because this winter's excessive rain and late spring storms have increased the chances of the disease affecting the Bay Area, public health authorities warned.
West Nile Virus is especially dangerous to the very young and the elderly as well as anyone with a weakened immune system, according to San Francisco Director of Public Health Mitch Katz.
In 2005, 19 Californians died and 935 became ill after being infected with the virus, which is transmitted to humans by infected mosquitoes.
None of last year's deaths in San Francisco was from a case of the disease acquired locally, but recent wet weather in Northern California has increased the likelihood of the stagnant and standing water conditions mosquitoes breed in, according to health officials.
In response, city agencies have stepped up monitoring of city parks, reservoirs and other public areas.
The department emphasizes the importance of reducing sources of standing water near homes as well as wearing long pants and long-sleeved clothing while outdoors at dawn and dusk and applying insect repellent according to manufacturers' instructions.
Community groups and individuals can order information brochures about West Nile Virus and the "Fight the Bite" campaign in seven different languages by calling (415) 252 3806 or by visiting the Web site http://www.sfmosquito.org.
Copyright © 2006 by Bay City News, Inc. -- Republication, Rebroadcast or any other Reuse without the express written consent of Bay City News, Inc. is prohibited.
####