Advocates demand women's universal
health care as a human right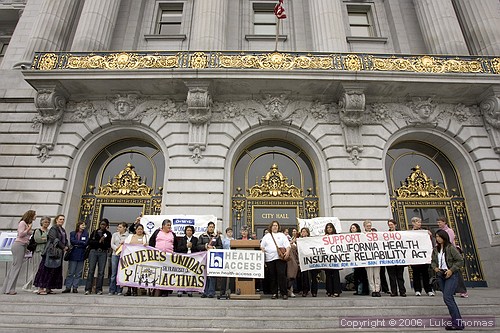 Photo(s) by Luke Thomas
May 19, 2006
Proponents alighted San Francisco City Hall Steps yesterday to proclaim universal health care for women a human right.
Supervisors Tom Ammiano and Ross Mirkarimi lent their voice with women's organizations, labor representatives and health care organizations.
The United States is out of step with international treaties, according to reports cited at the rally by Wild For Human Rights.
In San Francisco the UCSF National Center of Excellence in Women's Health noted:
* Women have higher rates of chronic diseases that cause limitation on activities of daily living.
* 20.4% of women in San Francisco in 2001 were diagnosed with arthritis compared to 12.3% of men.
* 60% of women in their senior years are dealing with hypertension or arthritis and 50% with high cholesterol.
* Anxiety and depression affect nearly 25% of all women, more than twice the rate of men.
* Only 34% of women in California gain health care insurance directly through their employers.
For more information, click here.
####