San Francisco's Tenderloin celebrates
the birth of Christ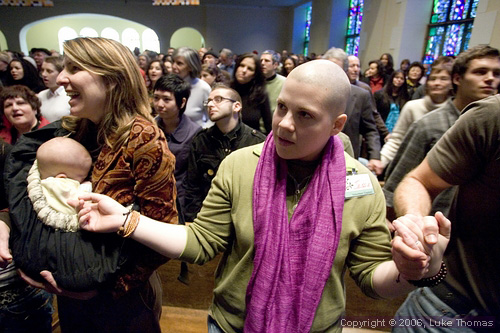 Congregation members of San Francisco's Glide Memorial Church
join hands in celebration of the birth of Jesus.
Photo(s) by Luke Thomas
By Luke Thomas

December 25, 2006
One of the best places in the world to celebrate Christmas is right here in San Francisco's Tenderloin District. You walk one block and you'll find yourself in the middle of a block party with cherub volunteers spending their Christmas Day helping to put smiles on the faces of our less fortunate.
Meals for everyone, toys for kids, love for all. It's Christmas Day.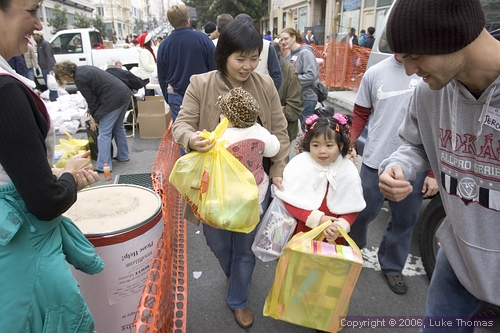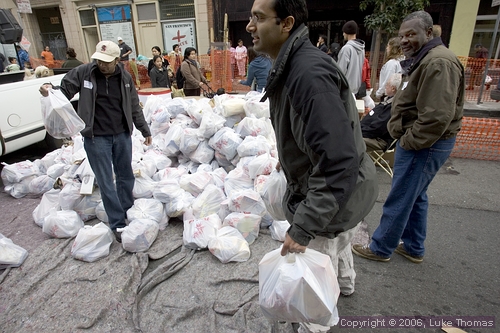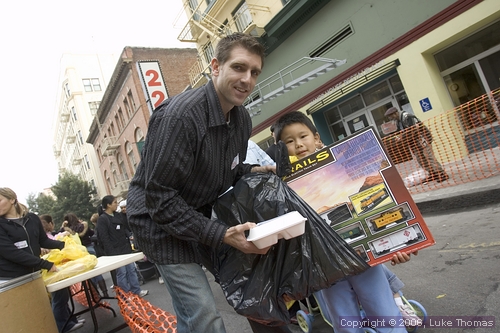 Rescue Mission's Associate Pasteur Clint Ladine gives the gift of giving to "Sonny", aged 6,
with a hot meal and a train set.
Walk another block and you'll find yourself outside Glide Memorial Church beckoning you to step into Glide's congregation of joy and hope, led by San Francisco legend Reverend Cecil Williams. Within minutes you are swept up by the songs sung from the hearts of the collective human spirit.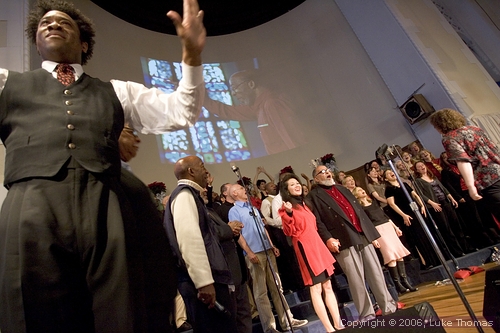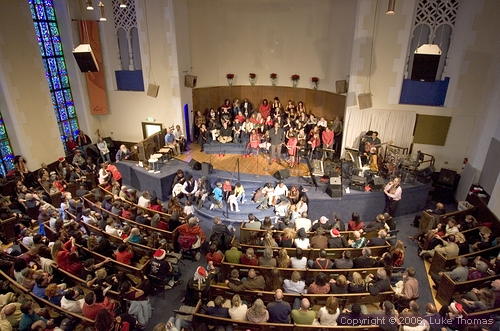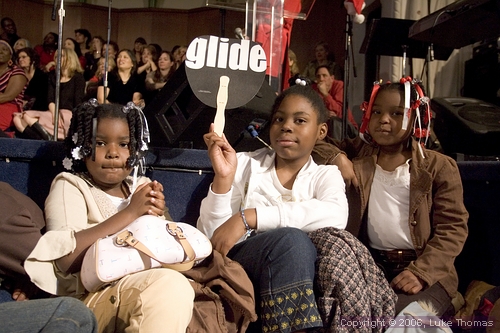 For a long moment, one begins to think about all the money being spent on shameful wars resulting in 655,000 deaths since the US began its neo-conservative inspired misadventure in Iraq in 2003, money that could be used to house our homeless, feed our hungry and heal our infirm.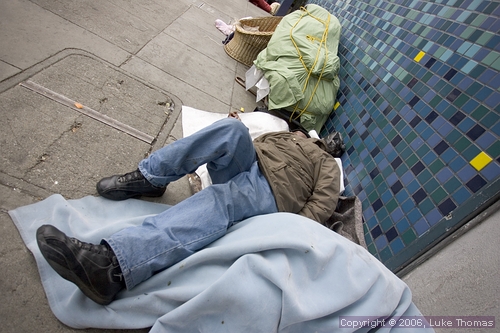 One thinks about a misguided President who claims to be a Christian but places a higher value on oil than human blood, but I digress.
In the basement of Glide Memorial volunteers are busily feeding our hungry. Some volunteers began their Christmas day at 4 a.m. while most of us were still sleeping.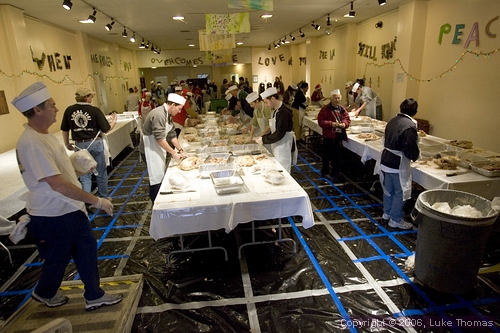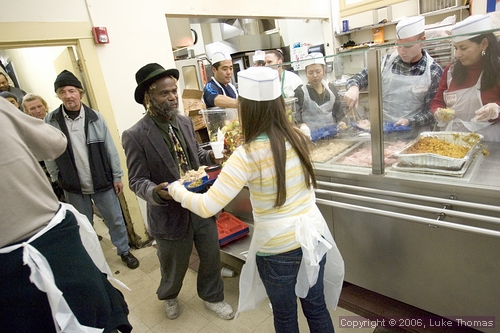 As many as 5,000 San Franciscans including 500 families will have their bellies and hearts filled by end of the day. But the biggest accomplishment of all is a restoration of one's faith in humanity.
And if it's music that you cherish, visit St. Anthony's on Golden Gate Avenue and you'll find a local San Franciscan piano player there playing a Christmas Day boogie woogie tune while St. Anthony clientele enjoy home style cooked meals prepared by an army of volunteer angels and bearded Santa's.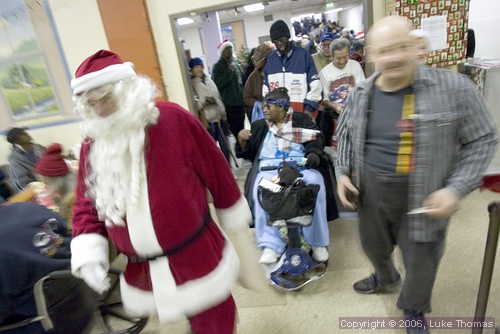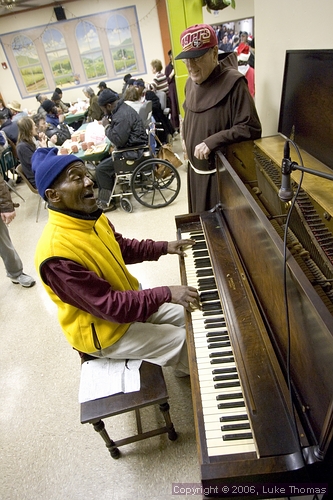 San Francisco piano man/impresario William White
plays his favorite tune "Christmas Day Boogie Woogie"
for St. Anthony yuletide diners and Father Floyd Lootito.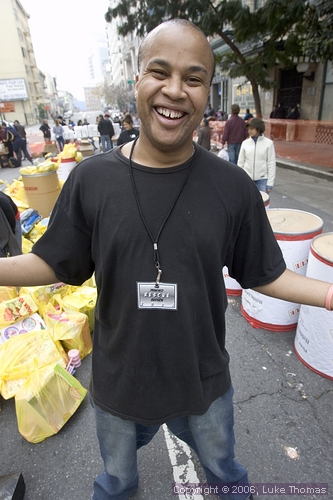 Jamaal Turner, angel from San Francisco Rescue Mission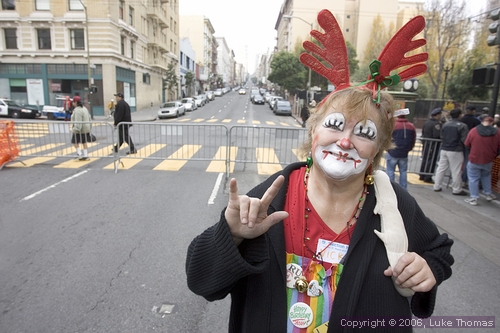 Vicki "I make people smile" Hugill, Old Park Christian Center, Concord.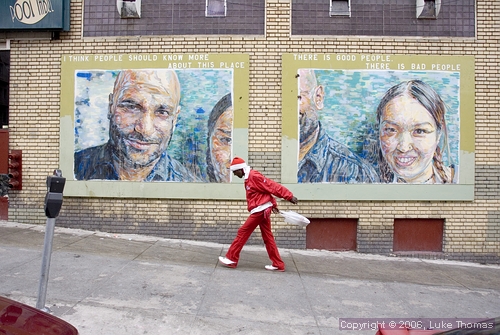 Yo Ho Ho! Merry Christmas to one and all.
May 2007 bring you happiness and joy. May peace reign upon our earth.
####