Tenant Associations Coalition of San Francisco
to host fourth mayoral debate Wednesday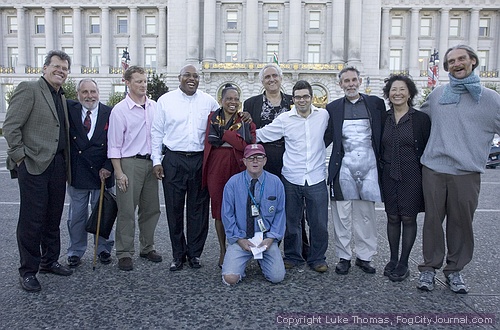 Mayoral candidates (from left to right) Tony Hall, Billy Bob Whitmer, Quintin Mecke,
Lonnie Holmes, Ahimsa Porter Sumchai, h. brown, Harold Hoogasian, Josh Wolf, George Davis, Wilma Pang and Grasshopper Kaplan.
Photo by Luke Thomas
From the Tenant Associations Coalition of San Francisco
September 3, 2007
Tenant Associations Coalition of San Francisco celebrates 9th Anniversary
Join us in Celebration & Mayoral Forum
*All Ballot qualified mayoral candidates invited*

Guest Speaker: State Senator Carole Migden
When: Wednesday, September 5, 2007 12:00 Noon - 3:00 PM
Where: 201 Turk Street, Community Room
Refreshments provided. Arrive early for door prizes.
Co-Sponsored by: Alexander Tenants Association, Alliance for a Better District 6, Café.com,
Central City Extra, Grand Liquors, Hilton San Francisco, Housing Rights Committee of San Francisco, Independent Living Resource Center, Mason Street, Market Street Association, Mental Health Association of San Francisco, North of Market Neighborhood Improvement Corporation, Original Joe's Restaurant, North of Market Planning Coalition, St. Anthony's Foundation, Sanctuary Collective, Senior Action Network, Southeast Asian Community Center, The Green Door, Tenderloin Neighborhood Development Corporation, Trinity Plaza Tenants Association, Turk Street Family Apartments and Women in SRO's Breaking the Silence.
####