Tony Hall Bows Out of Mayor's Race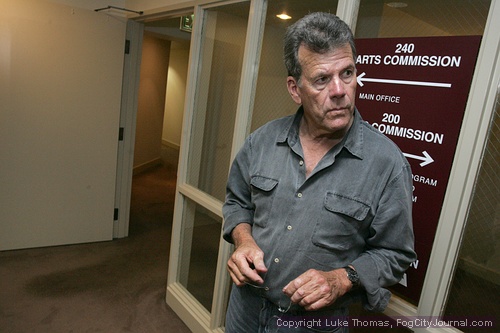 Former Supervisor Tony Hall today announced
his withdrawal from the San Francisco mayor's race..
Photo(s) by Luke Thomas
By Luke Thomas
August 30, 2007, 5:00 p.m
Former Supervisor Tony Hall confirmed to Fog City Journal earlier today that he has quit the mayor's race.
Hall, who pre-qualifed for public assisted campaign financing on Friday, accused the Newsom campaign of arm-twisting his supporters and "plotting" to recall Hall if he was elected Mayor of San Francisco in November.
"There's been too much hitting on my supporters, calling them up, delaying their building plans," Hall told Fog City by phone.
"There's just not enough people willing to stand up and hold this guy [Newsom] accountable. He's too vindictive and they're not going to let this city go, this machine.
"There's too many things already in place. One is the non-certification of the voting machines, and two, they're already plotting that if Tony Hall wins, there'd be a recall," Hall said.
Called for comment, Newsom Campaign Manager Eric Jaye told Fog City: "It's unfortunate that Supervisor Hall chose to leave the race. He was the last candidate left that wasn't named after a barnyard animal.
"His decision to withdraw clearly has an impact, but it won't change our strategy," Jaye said.

####