Schwarzenegger encourages tourism
to help San Deigo's economic recovery after wildfires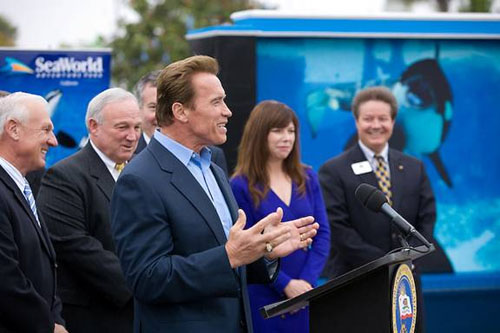 Photos by Rachel Cameron, Office of Governor Schwarzenegger
From the Office of Governor Arnold Schwarzenegger
November 8, 2007
Event: Press Conference, Sea World, 500 Sea World Drive, San Diego, CA, November 7, 2007
GOVERNOR SCHWARZENEGGER:
Well, hello, everybody, good afternoon. And it's nice to be back here again in the San Diego area, in the larger San Diego area, and I want to thank Mayor Sanders for being here today, and Supervisor Roberts, Assemblyman Garrick. And of course Shamu, who splashed me a little bit today, I want to thank him also. And then, of course, Caroline Beteta, who is with the California Travel and Tourism Commission, is actually the head of it. And everyone else, thank you very much for being here, we really appreciate it.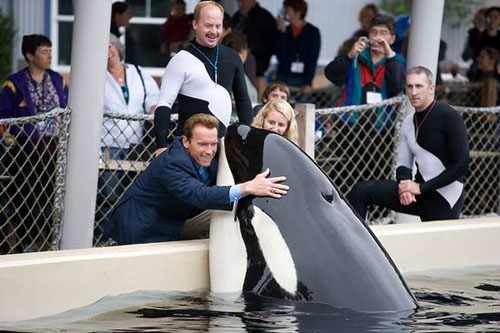 I'm kind of traveling up and down the state a little bit today. I just came from Lake Arrowhead, talking about tourism, and trying to bring tourism back to California. And it's great to be back again in San Diego, and also this fantastic SeaWorld Adventure Park. I know that this community and the surrounding area experienced some of the very serious damage of property in these recent fires, and so I know that hundreds of homes were destroyed, and thousands of acres burned, and people lost many valuable personal possessions and properties. So my heart goes out to everyone who suffered from those terrible losses. As I've said when I was here during the fires, that you will not be alone, those that have lost property. We will help you, we will be by your side, we will help you to rebuild again, and we will help you to get back on your feet as quickly as possible.
But there's another story that needs to be told, and that is that we have seen on the news so many times now, and people heard all around that we had those fires in San Diego and Orange County, Los Angeles County, and people assume that Southern California has burned down, that there is no more business, and nothing is going on here. It's quite the contrary, because we were very lucky that we had those extraordinary firefighters. We had the best firefighters in the world, the most experienced firefighters, the toughest ones, the most courageous ones, and they really saved a lot of property. It was really extraordinary the kind of work that they have done.
So I wanted to come down here and just visit this, and travel around San Diego a little bit, and just put the spotlight on this area here, and to let everyone know in California and around this country and around the world that we are open for business, and we continue being open for business, and this is still the most beautiful place in the world. As I've said earlier, it is the only place where you can go surfing in the morning, snow skiing at lunchtime, and go golfing in the evening. I mean, where else can you do that?
So I just want people to know that, and remind them that our businesses are open, the hotels are open, the highways are running, airports are open, and especially places like SeaWorld, Disneyland, all the beaches, the San Diego Zoo, the Chargers football and Hollywood and Knott's Berry Farm, and the list goes on and on and on, all of this is open. So we want you all to come. We have the best weather in the world, we have the most beautiful place, and we want to make sure that the people all over the world know that we are open for business.
I love Southern California and I love California because it's the greatest place, and that's why people from all over the world are coming to visit us, or live here in this great state. So, come back. We are open for business, and it's the greatest place in the world.
And with that, I want to say thank you, and have Mayor Sanders come out to say a few words. Thank you very much. (Applause)
MAYOR SANDERS:
The Governor is right, we're not alone. The Governor and his office have been tremendous on bringing support down to San Diego to help us recover from that fire disaster we had.
But he's absolutely right. San Diego is open for business, and it's a thriving visitor, hotel, and restaurant industry that are open for business and will now, with the help of the American and international visitors, be even stronger than ever before. Let there be no doubt, our region welcomes you to San Diego now more than ever. The best way that you can help speed our recovery efforts is to visit one of the most remarkable and beautiful regions of our country. Our world famous visitor and cultural attractions are open for all business, and ready to help you and your family create memories that will last a lifetime. Our wonderful hotels and amazing restaurants look forward to welcoming you and aim to meet your every expectation. In San Diego County our 70 miles of coastline and pristine beaches, scores of green parks, and hundreds of miles of desert landscape are ready to be explored and discovered.
In sum, we're ready to welcome you back to San Diego. For an entire week last month the news media from all over the world descended on our region. While that's not new to San Diego, it's traditionally been for more positive coverage, like a Super Bowl or the US Open that we'll host next year. The lingering impression that some folks may have of our region, now that the media attention has subsided, is of fire and disaster. We're grateful to those brave first responders who saved thousands of lives and hundreds of structures, and we grieve alongside the families whose homes were destroyed. But an important part of our recovery effort is renewal, and that's the purpose for our press conference today; reintroducing visitors to the many natural and manmade wonders of our community. We hope to be a central part of that effort. And once again, San Diego is indeed open for business.
And with that, I'll turn it over to Councilmember Kevin Faulconer. (Applause)
COUNCILMEMBER FAULCONER:
Thank you, Mr. Mayor, and good afternoon. As the Councilmember who is privileged to represent a good portion of our beaches and Mission Bay and the downtown, it's a privilege for me to stand here with our Governor, Arnold Schwarzenegger, and Mayor Sanders, to remind people that all of San Diego is a beautiful, fun and friendly place. Governor, I want to thank you for your continued support of our city and all that you've done over the last week. You have demonstrated your personal concern for San Diegans, and now you're here once again to help us tell the nation that we know you mean business, Governor, and everybody knows that San Diego is open for business today.
I also want to thank the valiant efforts of our firefighters, police officers, our health providers and all public safety personnel. Because of them, San Diego is a beautiful and vibrant city. And of course, thanks to our Mayor, Mayor Jerry Sanders, for all that he has done this past week, for bringing all the resources for our city to bear, and his tireless efforts. Mr. Mayor, you've done an outstanding job, and I wanted to thank you very, very much. Thank you, Mr. Mayor. (Applause)
From the Gas Lamp District to Mission Beach, Pacific Beach, Ocean Beach, the restaurants and shops throughout San Diego, and our hotels, are ready to accommodate visitors from all over California and the nation. So book your family vacation or your business event here in San Diego. You're going to have a tremendous and great time, and we welcome you with open arms.
And now it's my pleasure to introduce the president of the Chamber of Commerce, Mr. Ruben Barrales. Ruben? (Applause)
MR. BARRALES:
Governor, welcome back to San Diego. And we're all glad to see you, and I know Shamu was excited to see you as well this afternoon. San Diego is open for business. The fires are gone, the smoke has cleared, and places like our host today, SeaWorld, and the Zoo and the Wild Animal Park and our beaches are all open, as are our major industries, like telecommunications, Qualcomm, biotech industry and international trade. San Diego is open for business. It's a great place to live, to work, and to visit. And thank you, Mr. Governor, for helping emphasize that message. Thank you. (Applause)
I'm going to turn it over to one of the people that made, along with the Governor and the Mayor and so many others, who were fantastic in their response to these fires, Supervisor Ron Roberts. (Applause)
SUPERVISOR ROBERTS:
Thank you, Ruben. Welcome, Governor. He's been here every day, I think. It seems like it.
GOVERNOR SCHWARZENEGGER:
It feels like it.
SUPERVISOR ROBERTS:
You know, as the temperatures start to drop around the country -- we're seeing on the East Coast now that places like New York and Boston get into the 40s -- it makes us really appreciate the mild weather here in San Diego. And we want people to know that not only are we open for business, but the welcome mat is out. We welcome you to come to San Diego, especially for the tourists. We want people around the country, we want people around the world, to get this message. The fires, while tragic, they did not in any way damage our tourist infrastructure; not our airport, not our convention center, not our hotels, not the zoo, and certainly not SeaWorld. Whether you're planning a vacation, a convention, or even a movie production, we want you to know that San Diego County is open for business, and through our friends at the Convention and Visitors Bureau, we'll make sure that your stay here is both pleasurable and memorable.
Over the years San Diego has gained a reputation as one of the best tourism spots in the nation. Consistently, we've ranked in the top 5, and we want to keep it that way. We want you to come here, and we want you to have a good time. We want everybody to have a good time. Well, not Payton Manning and the Colts, we don't them to have a good time. Everybody else is welcome to come and enjoy yourselves. Governor, thanks for being here again, and I'm sure that you'll be available for some questions.
GOVERNOR SCHWARZENEGGER:
Thank you very much. (Applause)
Thank you very much. If you have any questions, please feel free. See, we explained it all. We explained it all, there are no more questions.
QUESTIONS/ANSWERS:
Q: What did you think of Shamu?
GOVERNOR: Well, a very muscular character. All of a sudden I felt very puny. So it was a nice hug; I needed one, so that was really nice.
And it is nice to be back, like I said, in the San Diego area, and I think this is a very important part of what we always talked about when we talked about follow through. You know, we all know that this was a terrible disaster that has happened, and a lot of people have lost a lot of property. And I think it's very important to now go out, since there has been so much play on television and in the media, the newspapers, magazines, about our fires, to let people know that we are now open again for business. Even though right now there are still two fires that are still not contained fully, but we are open for business. And the businesses were not hurt, the infrastructure is there for the tourists. And it is a beautiful, beautiful area. This is the most gorgeous place in the world, so come on out here and enjoy yourself. Thank you very much. Thank you. (Applause)
####