Evidence released in 1971 San Francisco police death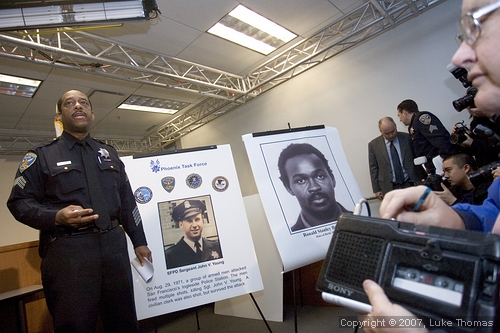 SFPD spokesperson Neville Gittens stands beside a poster
of slain SFPD officer Sgt. John Young who was murdered in cold blood
during a politcally motivated attack on the Ingleside police station in 1971.
Photo(s) by Luke Thomas
By Brent Begin, Bay City News Service

January 26, 2007
SAN FRANCISCO (BCN) - The keys to arrests earlier this week in the 1971 slaying of a San Francisco police sergeant include a fingerprint found on a cigarette lighter and a match of shotgun shells from the lost murder weapon.
Authorities earlier this week were reluctant to offer details into what prompted them to refocus their energy on the decades-old investigation into the death of San Francisco police Sgt. John Young. Eight former members of the Black Liberation Movement were arrested Tuesday.
According to an affidavit released Thursday, investigators re-examined a latent fingerprint on the lighter, which was left outside Ingleside station on the night of the murder, and found that it matched the fingerprint of Francisco "Cisco" Torres, one of eight men arrested.
The print had been examined in October of 1971, but there was no match. In 2003, however, investigators resubmitted the print to take advantage of new technologies and they made a match.
The original investigator said "when she first examined the print, she may have failed to make an identification because the latent appears to be a right slanted print when in fact it was a left slant," according to the affidavit.
Another piece of evidence that will be used to build the California attorney general's case is a match in shotgun shells recovered at the scene of the crime and in the evidence room of the New Orleans Police Department.
Inspector Joseph Engler wrote in the affidavit that he traveled to New Orleans in 2004 to recover four shotgun shells, which had been fired from a gun found in one of the suspect's New Orleans apartments, and compare it with 15 shells that were left behind at Ingleside station on the night of Aug. 29, 1971.
Five of the Ingleside station shells matched the four in New Orleans, and while the murder weapon has mysteriously disappeared, Engler wrote that the match would help convict nine men.
San Francisco resident Richard Brown, 65; Ray Michael Boudreaux, 64, and Henry "Hank" Watson Jones, 71, both of Altadena, Calif.; Herman Bell, 59, and Anthony Bottom, 55, both currently incarcerated in New York; Francisco Torres, 58, of Queens, NY; and Harold Taylor, 58, of Panama City, Fla., have all been charged with the murder of Young and with conspiracy to murder police officers.
Richard O'Neal, 57, of San Francisco was also arrested on conspiracy to murder police officers but was not charged as an active participant in the murder of Young.
Another suspect, Ronald Stanley Bridgeforth, 62, has also been charged with murder, conspiracy to commit murder and aggravated assault on a police officer in connection with his participation in the murder of Young, although his whereabouts is unknown.
The affidavit was signed on Jan. 18 and it also includes several witness statements that the attorney general's office plans to use in corroborating the recent evidence.
Both San Francisco men, Brown and O'Neal, are expected to be arraigned Monday morning in San Francisco Superior Court.
Copyright © 2007 by Bay City News, Inc. -- Republication, Rebroadcast or any other Reuse without the express written consent of Bay City News, Inc. is prohibited.

####