Council considers stadium negotiation with 49ers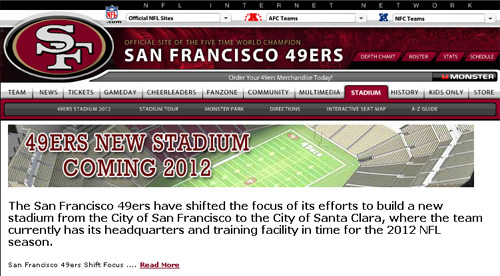 By Jason Bennert
January 15, 2008
The future of the San Francisco 49ers proposed Santa Clara stadium will take a big step forward tonight if the Santa Clara City Council approves their staff's recommendation to begin a six-month negotiation with the team over a stadium deal.
The Santa Clara City Manager's office issued its recommendation late last week that the council begin preliminary negotiations with the 49ers over the terms of the stadium deal with a strong cap on the city's share of the stadium construction costs.
"Staff would strongly advise, if Council chooses this option, a key parameter of any further discussions be that there would be no further (City) funding contributions beyond $136 million, and no additional City-owned property to be used as a resource for stadium project funding beyond the City-owned property for the stadium itself,'' according to the manager's office recommendation.
The stadium's price tag has been estimated as high as $916 million.
The 49ers owners, Denise DeBartolo York and her husband John York, had originally sought an additional $51 million contribution from the City but at a December council meeting 49ers Chief Financial Officer Larry MacNeil indicated that the team would be able to make up the shortfall.
"We would expect a significant portion of it to come from private sources, the team or the (National Football League),'' MacNeil said in December.
Issues that would need to be resolved during the six-month negotiating period include the opposition of Cedar Fair Entertainment, the company that operates the Great America amusement park. The stadium would likely be built on a city-owned overflow parking lot used by the park.
Based on council discussions and statements, any stadium deal would likely have to be approved by Santa Clara voters later this year in a ballot measure.
The city council meeting is scheduled to begin at 7 p.m. tonight.


Copyright © 2008 by Bay City News, Inc. -- Republication, Rebroadcast or any other Reuse without the express written consent of Bay City News, Inc. is prohibited.
####