9/11 Truth Alliance to hold Boston Tea Party event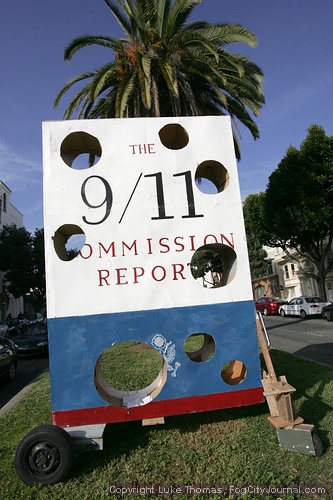 Photo by Luke Thomas
By Maya Strausberg
December 16, 2007
The Boston Tea Party will get a modern twist today when San Francisco activists recreate the event on its anniversary but add contemporary issues to the mix.
John Wright, the event's main organizer with the Northern California 9/11 Truth Alliance, said participants will parade from Pier 39 to the end of Municipal Pier, where they will destroy representations of presidential orders and Congressional bills.
Among the representations will be an 8 foot by 12 foot replica of the 9/11 Commission report, which will get tossed into the bay waters like the tea into the Boston Harbor, said Wright.
"There was so much not included, so many distortions or omissions," Wright said of the report. "There has been an international call for a new investigation."
The rally will also bring to light the protestors' criticism toward the Patriot Act, the Military Commissions Act, the Violent Radicalization and Homegrown Terrorism Prevention Act, National Security Presidential Order 51 and Homeland Security Presidential Order 20.
Organizers held the same event for the first time last year, with about 25 people participating, said Wright. This year, he said he expects somewhere between 25 and 100 people. Similar events will be held in Boston, San Diego and other U.S. cities.
Participants will meet at noon at Pier 39 before parading west past Fisherman's Wharf and meeting at 2 p.m. at the Hyde Street Pier. After a few speakers, the group will march to the Aquatic Park and to the end of Municipal Pier at 3 p.m.
After the replicas are thrown into the waters by participants in 1773-era costumes, they will be fished out so as not to pollute the bay, said Wright.
Copyright © 2007 by Bay City News, Inc. -- Republication, Rebroadcast or any other Reuse without the express written consent of Bay City News, Inc. is prohibited.
####