LGBT group opposes
Pelosi employment discrimination bill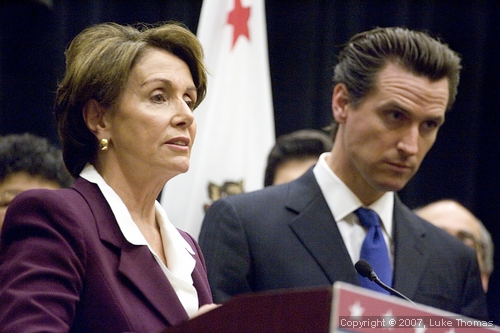 Members of an LGBT group oppose Speaker Nancy Pelosi's watering down
of a bill that would prohibit employment discrimination of transgendered persons.
Photo(s) by Luke Thomas
By Caitlin McAdoo
October 1, 2007
Members of the lesbian, gay, bisexual and transgender community plan to hold a 24-hour vigil today in protest of a new bill that would drop transgender people from the Employment Non-Discrimination Act.
The original bill, HR 2015, prohibited discrimination against employees because of their sexual orientation or gender identity.
House Speaker Nancy Pelosi and Congressman Barney Frank announced Thursday that they would be presenting a different piece of legislation, HR 3685, to the U.S. Senate Labor Committee Tuesday. The new bill would only ban discrimination against employees based on their sexual orientation, but would fail to protect transgender people.
"While I personally favor legislation that would include gender identity, the new ENDA legislation proposed by Congressman Frank has the best prospects for success on the House floor," Pelosi said in a written statement released Friday.
According to Robert Haaland, co-chair of Pride At Work organizations have come out against the new bill and are asking Pelosi not to present it to the labor committee for a vote Tuesday. They are asking instead that the committee be offered another chance to vote on the original legislation, Haaland said.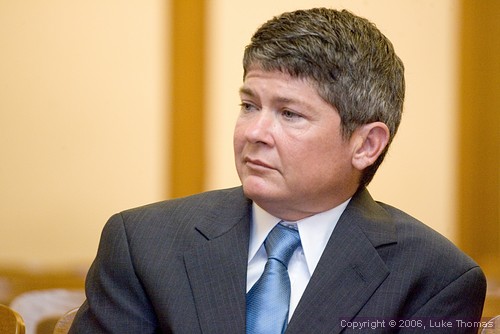 Robert Haaland
"Transgender people face the highest rates of unemployment in our community and it would be unconscionable for us to sit idly by and see them stripped from this important piece of federal legislation," Nancy Wohlforth, co-president of Pride At Work, said.
The vigil will be held in front of the Federal Building, which houses Pelosi's office, located at 450 Golden Gate Ave., San Francisco.
Copyright © 2007 by Bay City News, Inc. -- Republication, Rebroadcast or any other Reuse without the express written consent of Bay City News, Inc. is prohibited.
####