Harris moves to prosecute alleged attackers
of Baker's Dozen singing group
Two suspects charged so far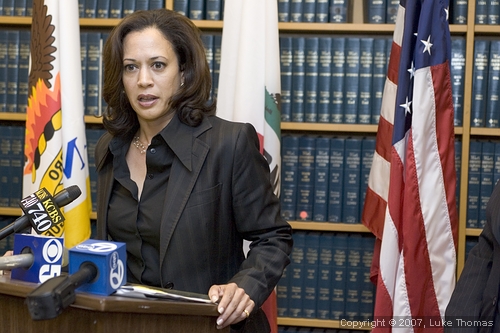 San Francisco District Attorney Kamala Harris today announced charges stemming from a brutal attack on members of the Baker's Dozen singing group following a New Year's Eve party.
Photo(s) by Luke Thomas
By Brent Begin, Bay City News

March 5, 2007
SAN FRANCISCO (BCN) - San Francisco District Attorney Kamala Harris said this evening she was eager to prosecute two men charged in the beating of members of a Yale singing group. Harris characterized the alleged attackers as "cowardly" and called the incident "essentially a group attack on innocent victims."
Harris authorized arrest warrants this morning for Richard Aicardi and Brian Dwyer in an attack on William Bailey and Evan Gogel. Another victim, Sharyar Aziz Jr., was not mentioned in the charges.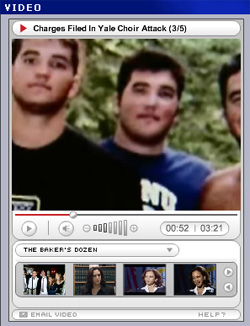 Richard Aicardi (center).
Screenshot courtesy KGO-TV/DT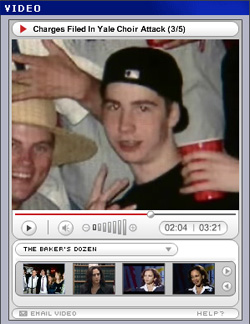 Brian Dwyer
Screenshot courtesy KGO-TV/DT
Aicardi is charged with two counts of felony assault and one count of battery with enhancements of causing great bodily injury. Dwyer has been charged with one count of felony assault, one count of battery and a special allegation of causing great bodily injury.
Neither man was in custody at the time of Harris' impromptu news conference. Police are responsible for arresting the men if they don't turn themselves in. Once in custody, Dwyer's bail will be set at $80,000 and Aicardi's will be set at $120,000, according to the district attorney's office.
The incident attracted national attention because of the nature of the assault, it was reported to have happened after the Baker's Dozen singing club sang an a cappella version of the "Star Spangled Banner," and because of the San Francisco Police Department's reluctance to file charges.
Aziz had his jaw broken in two places, and Gogel sustained a concussion and two black eyes by assailants kicking him as he lay on the ground. Bailey was allegedly punched in the face, according to the charges.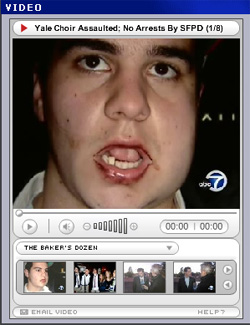 Sharyar Aziz Jr.
Screenshot courtesy KGO-TV/DT
"There is another case involving a victim, and several victims, who received probably the most serious injuries in this case," Harris said in regards to Aziz. "Unfortunately, the evidence does not at this time support charges on that case, but we are actively looking forward to any evidence that develops in the future."
Asked if she is considering a criminal grand jury to investigate, Harris said: "The grand jury is always available to us when we feel the need to take a case to the grand jury.
"In this case you are all aware the investigation lasted two months. I believe that whatever the grand jury would uncover was probably uncovered during this two month long investigation," Harris added.
A grand jury has the authority to compel witness testimony via subpoena, and can issue indictments.
James Hammer, an attorney who represents both Gogel and Aziz, said that the singers provided plenty of evidence to have four attackers arrested after police responded to the attack, around 12:43 a.m. on New Year's Day.
But police said the Yale group didn't stick around long enough to provide them with information.
The fight, which occurred in the 100 block of 15th Avenue, had spilled out on to the street after an initial confrontation inside the home of San Francisco police Sgt. Leanna Dawydiak and her husband, retired San Francisco police Sgt. Reno Rapagnani.
Their daughter, Rose Dawydiak-Rapagnani, 19, had organized the party and invited the singing group.
Members of the Baker's Dozen approached officers responding to the area and pointed out four others, saying they had been involved in the fight, Gittens said.
Police detained the four but when they went to speak with the first group, who had fingered the four apparent suspects, they had all left, he said.
Police completed their investigation on Feb. 16 and the case was handed to the district attorney's office. Spokeswoman Debbie Mesloh said prosecutors were analyzing the evidence in order to make a charging decision.
Harris addressed concerns that the nearly nine-week period between the incident and today's charges could have made the investigation more difficult.
"No doubt the gold standard in investigation of crime is that the investigation is initiated and pursued actively in the first 72 hours of the incident itself, and that gold standard is in place primarily because it has been well proven that it produces the best evidence."
Evidence is fresh, memories are fresh and witnesses are eager to come forward, she added.
"There were a lot of people we needed to talk with, and that took some time," she added in response to inquiries about the wait.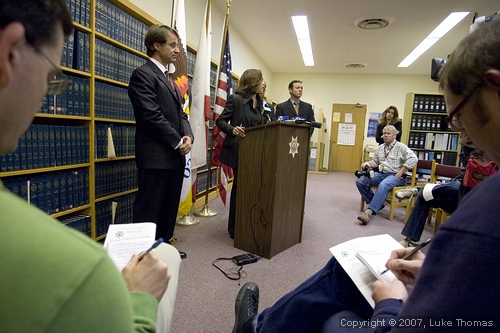 Luke Thomas contributed to this report.
####