Obama garners Lofgren and Liccardo endorsements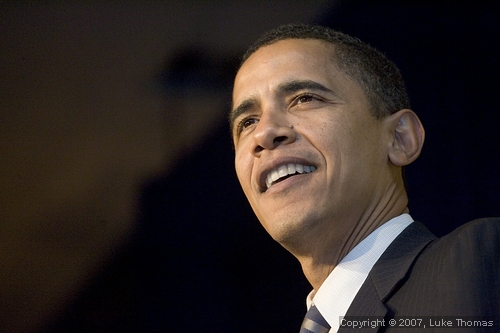 Senator Barack Obama today earned the endorsements of Rep. Zoe Lofgren
and San Jose Councilman Sam Liccardo.
Photo by Luke Thomas
By Jason Bennert
January 14, 2008
One of Silicon Valley's most prominent female political leaders, Rep. Zoe Lofgren, D-San Jose, today endorsed Sen. Barack Obama for president.
Lofgren has represented much of San Jose and other parts of Santa Clara County in Congress since 1994. While she respects Obama's major opponent in the Democratic presidential primary, Sen. Hillary Clinton, she believes it is time for a change.
"We've had either a Clinton or a Bush as president since 1988. It's time for something new,'' Lofgren said.
Lofgren dismissed recent criticism leveled by the Clinton campaign that Obama's talk about hope is not enough to win the presidential race in November.
"There are times when you need someone who can inspire the nation the way that Bobby Kennedy did and the way that Sen. Barack Obama is,'' Lofgren said.
San Jose City Councilman Sam Liccardo also endorsed Obama today. Both he and Lofgren appeared at the opening of Obama's San Jose campaign office.
"It's from places like San Jose that Barack Obama will be propelled into the White House. We are the place that propels great ideas,'' Liccardo said.
Obama is scheduled to come to the Bay Area next week for a series of fundraisers. He will also hold a public event at a location to be determined later, according to a campaign spokeswoman.
Copyright © 2007 by Bay City News, Inc. -- Republication, Rebroadcast or any other Reuse without the express written consent of Bay City News, Inc. is prohibited.
####