Rep. Barbara Lee gives annual State of the District address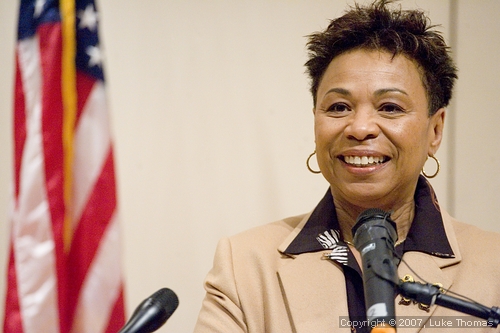 Rep. Barbara Lee, file photo.
Photo by Luke Thomas
By Maya Strausberg
February 12, 2008
Rep. Barbara Lee, D-Oakland, gave her annual State of the District address Monday in front of hundreds of Bay Area residents and discussed issues both local and global.
"We must forge beyond our progress in delivering economic security for all by providing a living wage for all Americans, by making housing a fundamental right, by finally delivering on universal health care for all, by ensuring every child has access to a quality public education at all levels and by ensuring our trade polices are just and fair," Lee said.
She went on to pinpoint bringing the troops home from Iraq, ending genocide in Darfur and preventing the spread of HIV and AIDS on a global level as steps of great importance to Americans.
Shutting down Guantanamo Bay and preventing war in Iran were also high on Lee's list.
"We must forge beyond our progress in protecting the environment and toward achieving energy independence by tackling global warming, and; by making sure that in California, our waiver to more aggressively curb car emissions is given the green light," said Lee.
--
####