Bonds may hold a giant baseball record,
but he won't be a Giant anymore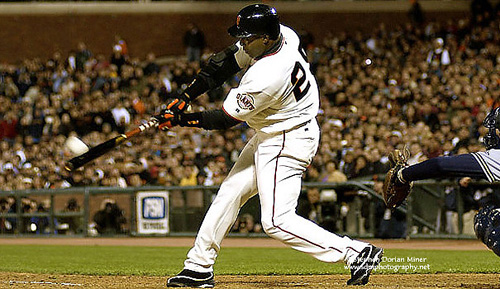 Slugger Barry Bonds made history last month after hitting his 756th Major League Baseball homerun. Today, the San Francisco Giants announced it will not be re-signing
the baseball legend.
Photo by Stephen Dorian Miner
By Karli Bulnes
September 22, 2007
It's a giant announcement for Bay Area baseball fans.
The San Francisco Giants revealed Friday the organization would not bring star slugger Barry Bonds back for the 2008 season.
The announcement comes just in time for fans to flock to the last home stand of the season to catch a final glimpse of Bonds in the orange and black.
Meanwhile, Giants officials are praising the reigning home run king for his contributions to the organization both on and off the field.
"He is the greatest player of his generation and one of the best of all time,'' Giants Senior Vice President and General Manager Brian Sabean said Friday in a written statement.
"Barry helped San Francisco become a baseball town again. I will forever be grateful for all the success, excitement and memories that he created for our fans,'' club President and Managing General Partner Peter Magowan said. "However, all good things must come to an end and now seems like the right time to move on,'' he said.
Bonds joined the Giants in 1993 and hit a home run in his first at bat as a Giant at Candlestick Park. He went on to spend 15 exciting seasons with the Giants that were full of milestone home runs, including Bonds' 756th career home run, which he hit August 7 at AT&T Park to break Major League Baseball's all-time career home run record.
Copyright © 2007 by Bay City News, Inc. -- Republication, Rebroadcast or any other Reuse without the express written consent of Bay City News, Inc. is prohibited.
####