Bonds indicted,
charged with lying to federal grand jury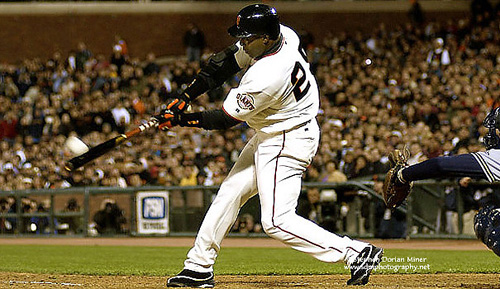 Baseball homerun record holder Barry Bonds was indicted today
by a federal jury on charges of perjury and obstruction of justice.
If convicted, Bonds faces up to 30 years in prison.
Photo by Stephen Dorion Miner
By Ari Burack
November 15, 2007
A federal grand jury today indicted former San Francisco Giants slugger Barry Bonds on charges of perjury and obstruction of justice.
Bonds, Major League Baseball's all-time home run leader, was charged with four counts of perjury and one count of obstruction of justice for "knowlingly and willingly" making false statements under oath about his alleged use of anabolic steroids and other performance enhancing substances, and for allegedly obstructing justice during the Bay Area Laboratory Cooperative investigation, U.S. Attorney Scott Schools said.
The indictment alleged that on Dec. 4, 2003, Bonds gave testimony "that was intentionally evasive, false and misleading" before a federal grand jury in San Francisco's Northern District of California that was investigating whether Burlingame-based Balco Laboratories, Inc. and Bonds' trainer Greg Anderson were distributing illegal performance-enhancing drugs to professional athletes.
According to the indictment, when asked if he had ever taken any steroids that Anderson gave him, Bonds responded, "Not that I know of."
The indictment further alleged that Bonds denied Anderson or any of his associates had ever injected anything into him with a needle, or that Anderson ever gave him anything he said had to be taken with a needle or syringe.
Bonds also denied receiving testosterone or human growth hormone from Anderson, and said he had not received substances referred to as "the cream" and "the clear" from Anderson until after the 2002 baseball season, the indictment charged.
Bonds, 43, is scheduled to make an initial appearance on the charges before a U.S. magistrate judge in San Francisco on Dec. 7 at 9:30 a.m., according to the U.S. Attorney's Office.
If convicted, Bonds could technically face up to five years in prison for each count of perjury and 10 years in prison for obstruction of justice, though a judge would first consider federal sentencing guidelines in the case.
Copyright © 2007 by Bay City News, Inc. -- Republication, Rebroadcast or any other Reuse without the express written consent of Bay City News, Inc. is prohibited.
####