Bonds to appear before perjury trial judge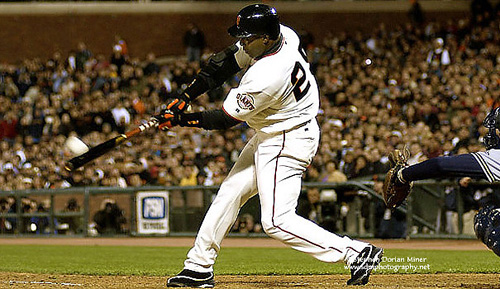 Homerun record holder Barry Bonds is due to make an appearance
in federal court Friday on perjury charges.
Photo by Stephen Dorian Miner
By Julia Cheever
December 6, 2007
Baseball star Barry Bonds is due to make his first appearance in federal court in San Francisco on Friday before the judge who will preside over his perjury trial.
In an unusual procedure, Bonds will have two consecutive court hearings instead of having the more normal schedule of having the sessions several days apart.
First, Bonds, 43, will be arraigned before U.S. Magistrate Maria-Elena James on the four counts of perjury and one count of obstruction of justice lodged against him in a Nov. 15 grand jury indictment.
Immediately afterwards, and in the same courtroom, U.S. District Judge Susan Illston will schedule a trial date. It is possible that the judge will postpone scheduling the actual trial and instead will set another hearing for the designation of future court dates.
Both hearings are expected to be brief.
Both will take place in Illston's courtroom on the 19th floor of the Federal Building, to avoid logistical confusion for the crowds of reporters and members of the public who may want to attend the highly publicized case.
Bonds' lawyer, Michael Rains, said in a recorded media message that he doesn't plan to make any comments before the hearings, but said, "Barry will be in court tomorrow (Friday)."
Bonds played for the San Francisco Giants from 1993 through this year and set a record in August as Major League Baseball's all-time home run leader.
He is accused in the five criminal counts of lying when he denied to a grand jury on Dec. 4, 2003, that he had been given steroids and other performance-enhancing drugs by his trainer, Greg Anderson.
The grand jury was investigating a sports steroid scheme centered on the Bay Area Laboratory Co-Operative, or BALCO, a Burlingame nutritional laboratory.
Illston has handled eight other BALCO-related cases. In six of those cases, defendants including Anderson and BALCO President Victor Conte have pleaded guilty to charges related to distribution of steroids. Their sentences ranged from probation, to, in Conte's case, four months in prison and four months of home detention.
Still awaiting trial before Illston are championship cyclist Tammy Thomas and track coach Trevor Graham, both of whom are accused of perjury in the probe.
Bonds' case was originally assigned to a different federal judge, but prosecutors requested the transfer to Illston's court. They said in a written request for the transfer that "one of more of the defendants in the Conte et al. matter could be witnesses in the Bonds matter" and some of the evidence would be the same.
If convicted of the charges, Bonds faces a theoretical maximum sentence of five years in prison for each count of perjury and 10 years in prison for obstruction of justice. The actual penalty would take account of federal sentencing guidelines, however.
Doron Weinberg, a criminal defense attorney not connected with the case, estimated that a sentence under the guidelines for all five counts would fall between two years and two years and six months in prison.
If Bonds were to plead guilty, the sentence might be between 10 months and one year and four months, half in custody and half in home detention, Weinberg said.
Copyright © 2007 by Bay City News, Inc. -- Republication, Rebroadcast or any other Reuse without the express written consent of Bay City News, Inc. is prohibited.
####