Bonds ordered released on own recognizance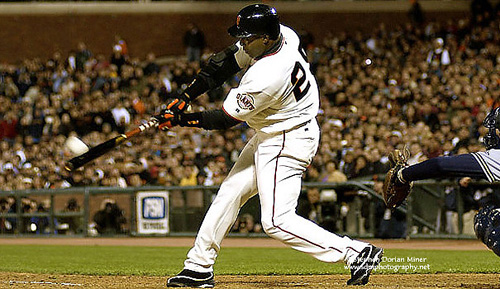 Homerun record holder (*) Barry Bonds has been ordered released fom custody today
after entering a plea of not guilty to charges that he lied before a U.S. grand jury.
Photo by Stephen Dorian Miner
By Julia Cheever and Ari Burack
December 7, 2007
Former San Francisco Giants star Barry Bonds was ordered released on his own recognizance after pleading not guilty in federal court in San Francisco today to charges that he lied before a U.S. grand jury investigating sports steroids.
Bonds, 43, flanked by six defense lawyers, entered the plea in a packed courtroom before U.S. Magistrate Maria-Elena James.
James ordered Bonds released on a $500,000 bond.
Bonds is accused in a Nov. 15 indictment of four counts of perjury and one count of obstruction of justice in denying to a grand jury on Dec. 4, 2003, that he had been given steroids and other performance-enhancing drugs by his trainer, Greg Anderson.
The arraignment before James was his first court appearance on the charges. Bonds was scheduled to have a second hearing this morning before U.S. District Judge Susan Illston for setting of a trial date.
Copyright © 2007 by Bay City News, Inc. -- Republication, Rebroadcast or any other Reuse without the express written consent of Bay City News, Inc. is prohibited.
####