Bonds pleads not guilty, new court date set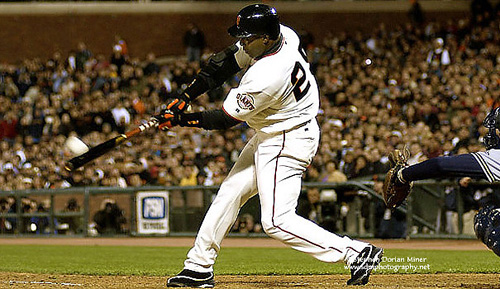 Homerun record holder (*) Barry Bonds has been ordered released fom custody today
after entering a plea of not guilty to charges that he lied before a U.S. grand jury.
Photo by Stephen Dorian Miner
By Julia Cheever
December 7, 2007
Baseball star Barry Bonds pleaded not guilty to perjury charges in federal court in San Francisco today and was given a new court date of Feb. 7 for further proceedings.
Bonds, 43, pleaded not guilty before U.S. Magistrate Maria-Elena James to four counts of perjury and one count of obstruction of justice for allegedly lying to a grand jury in a sports steroids probe in 2003. James ordered Bonds released on a $500,000 bond.
After the arraignment, Bonds appeared before U.S. District Judge Susan Illston, who postponed setting a trial date and scheduled another hearing on Feb. 7 for a status conference on the case.
Bonds was flanked by six defense lawyers. One of them Allen Ruby told the judge that the defense team may be filing a motion for dismissal of the Nov. 15 indictment against Bonds.
Assistant U.S. Attorney Matthew Parrella told Illston that prosecutors may seek to disqualify one or more of the defense attorneys on grounds of conflict of interest. He did not specify the alleged conflict.
Another defense attorney, Cristina Arguedas, asked the judge for permission for Bonds not to be present at the Feb. 7 hearing.
Illston said she would agree to the request unless that hearing is the court session at which the conflict of interest issue is argued.
Bonds is accused of lying when he denied to a grand jury on Dec. 4, 2003, that he ever knowingly received steroids, human growth hormone or anything that needed to be injected from his trainer, Greg Anderson.
Bonds played for the San Francisco Giants from 1993 through this year and holds the Major League Baseball record for career home runs.
Copyright © 2007 by Bay City News, Inc. -- Republication, Rebroadcast or any other Reuse without the express written consent of Bay City News, Inc. is prohibited.
####