Bonds pleads not guilty,
lawyer says he is innocent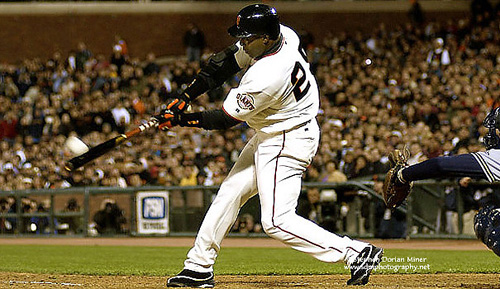 Homerun record holder (*) Barry Bonds has been ordered released fom custody today
after entering a plea of not guilty to charges that he lied before a U.S. grand jury.
Photo by Stephen Dorian Miner
By Julia Cheever and Ari Burack
December 7, 2007
Major League Baseball home run champion Barry Bonds pleaded not guilty to perjury charges at his first appearance in federal court in San Francisco today and was given a new court date of Feb. 7 for further proceedings.
Bonds, 43, was wearing a dark business suit and was flanked by six defense lawyers when he entered the not-guilty plea during an arraignment before U.S. Magistrate Maria-Elena James in a packed Federal Building courtroom.
Outside of court, one of the attorneys, Allen Ruby of San Jose, told a crowd of news reporters and spectators, "Barry Bonds is innocent. He has trust and faith in the justice system."
Ruby said, "He will defend these charges and we're confident of the outcome."
The attorney declined further comment, saying, "We have a lot to say about the case but it will be said in court papers."
Bonds was indicted Nov. 15 on four counts of perjury and one count of obstruction of justice for allegedly lying when he told a federal grand jury in 2003 that he never knowingly received steroids or human growth hormone from his trainer, Greg Anderson.
He is not criminally charged with taking performance-enhancing drugs but rather with failing to tell the truth during a federal sports steroids probe centered on the Burlingame-based Bay Area Laboratory Co-Operative, or BALCO.
At the arraignment, James allowed the former San Francisco Giants slugger to remain free on a $500,000 personal recognizance bond with no restrictions on travel while awaiting trial.
The plea entry was followed by a second hearing in the same courtroom in which Bonds appeared for the first time before U.S. District Judge Susan Illston, the judge who will preside over his trial.
At the request of prosecution and defense lawyers, Illston postponed setting a trial date and instead scheduled another hearing on Feb. 7 for a status conference.
Ruby told the judge the defense team may file a motion for dismissal of the Nov. 15 indictment against Bonds on the ground that the document is defective, but gave no details.
Assistant U.S. Attorney Matthew Parrella told Illston that prosecutors may seek to disqualify one or more defense attorneys because of conflict of interest. He did not specify the alleged conflict.
Bonds said only a few words during the brief hearings. He told James his name and age, and when asked by Illston whether he was willing to give up his right to have a trial within 70 days, he answered, "Yes."
The not-guilty plea was entered on his behalf by Ruby.
Bonds played for the San Francisco Giants from 1993 through this year and in August set the Major League Baseball record for career home runs.
Another defense attorney, Cristina Arguedas of Berkeley, asked Illston for permission for Bonds not to be present at the Feb. 7 status conference.
Illston said she would agree unless that hearing is the court session at which the alleged defense attorney conflict of interest is discussed.
At their news conference outside the Federal Building, the defense team declined to speculate on which lawyer or lawyers might be alleged to have a conflict. But one possibility is Arguedas, who represented track star Tim Montgomery when he appeared before the grand jury in the BALCO case.
Bonds' lawyers today included his longtime attorney, Michael Rains of Pleasant Hill, whose specialty has been defending police officers accused of misconduct in state court, as well as five veteran federal criminal defense attorneys who are new to Bonds' team.
In addition to Ruby and Arguedas, the attorneys include Arguedas' law partner, Ted Cassman, and appellate specialist Dennis Riordan and his partner, Donald Horgan, of San Francisco.
Bonds' case was originally assigned to a different federal judge, but at the request of prosecutors was transferred to Illston, who has handled eight other BALCO-related cases.
In six of those cases, defendants including Anderson and BALCO President Victor Conte pleaded guilty to charges related to steroids distribution. Their sentences ranged from probation, to, in Conte's case, four months in prison and four months of home detention.
Still awaiting trial before Illston are championship cyclist Tammy Thomas and track coach Trevor Graham, both of whom are accused of perjury in the probe.
If convicted of all five charges, Bonds faces a theoretical maximum sentence of five years in prison for each count of perjury and 10 years in prison for obstruction of justice.
But court experts have said that the actual penalty under federal sentencing guidelines would be closer to two and one-half years.
Doron Weinberg, a criminal defense attorney not connected with the case, estimated that a sentence under the guidelines would fall between two years and two and one-half years in prison.
If Bonds were to plead guilty, the sentence might be between 10 months and one year and four months, half in custody and half in home detention, Weinberg said.
Copyright © 2007 by Bay City News, Inc. -- Republication, Rebroadcast or any other Reuse without the express written consent of Bay City News, Inc. is prohibited.
####