Giants, Bonds lawyer comment,
"This is a very sad day"
Anderson to be released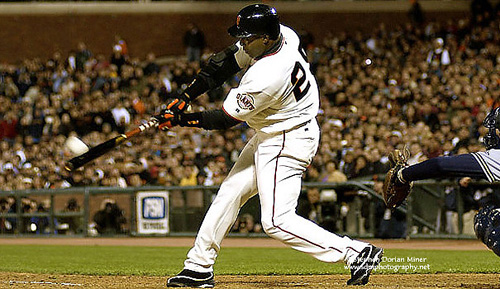 Baseball homerun record holder Barry Bonds was indicted by a federal grand jury yesterday on charges of perjury and obstruction of justice. The charges stem from federal probe
into illegal steroid use in professional sports.
Photo by Stephen Dorion Miner
By Julia Cheever & Ari Burack
November 15, 2007
The San Francisco Giants, responding to today's indictment of former Giants slugger Barry Bonds, said, "This is a very sad day."
The team issued a statement saying Bonds "was an important member of our team" for many years and "is one of the most talented baseball players of his era."
"These are serious charges. Now that the judicial process has begun, we look forward to this matter being resolved in a court of law," the Giants said.
Bonds, 43, played for the Giants from 1993 through this year and set a record in August as Major League Baseball's all-time home run leader.
He was indicted by a federal grand jury in San Francisco on charges of perjury and obstruction of justice for allegedly lying to a different grand jury in 2003 in a sports steroid probe centered on the Burlingame-based Bay Area Laboratory Co-Operative, or BALCO.
Bonds is due to make an initial appearance before a federal magistrate in the city on Dec. 7.
His attorney, Michael Rains of Pleasant Hill, said this afternoon that the court process will allow the "whole truth" to come out in the case, which has been subject to media speculation about a possible indictment of Bonds since the federal probe began in 2003.
Rains said, "Now the public will get the whole truth, not just selectively leaked fabrications from anonymous sources."
He added, "What we want to know is whether the media will spend as much time repairing Barry's reputation as they have destroying it after he is proven innocent by a fair and impartial jury."
Bonds faces four counts of perjury and one count of obstruction of justice for allegedly lying when he denied to a grand jury on Dec. 4, 2003, that he had been given steroids and other performance-enhancing drugs by his trainer, Greg Anderson.
Bonds is not criminally charged in the indictment with using such drugs.
But introductory material in the indictment alleges, "During the criminal investigation, evidence was obtained including positive tests for the presence of anabolic steroids and other performance-enhancing substances for Barry Bonds and other professional athletes."
In another development today, U.S. District Judge William Alsup ordered Anderson's release from a federal prison in Dublin where he spent 13 and one-half months in custody after being found in contempt of court for refusing to testify in the perjury probe.
Anderson's attorney, Mark Geragos, said he expects Anderson to be released from the prison tonight.
Anderson, 41, pleaded guilty in an earlier BALCO-related prosecution to charges of money laundering conspiring to give professional athletes anabolic steroids and was sentenced to three months in prison.
He was sent back to prison by Alsup last year after he refused to testify about whether Bonds, his client and childhood friend, had lied before the earlier grand jury.
Alsup signed the release order after prosecutors filed a brief notice saying they did not oppose Anderson's release. The notice did not mention Bonds's indictment.
In three of the counts in the indictment, Bonds is accused of lying when he said he had not taken steroids, any injections or human growth hormone from Anderson.
The fourth perjury count accuses him of lying when he said he hadn't received a cream he believed to be flax seed oil or another lotion called "the clear" from Anderson before 2002.
"The clear," also known as THG, is a once-undetectable steroid-like drug banned by the U.S. Food and Drug Administration at the end of 2003.
The fifth count accuses Anderson of obstruction of justice for the four alleged perjuries as well as additional allegedly "evasive and misleading testimony."
If convicted, Bonds could technically face up to five years in prison for each count of perjury and 10 years in prison for obstruction of justice, though a judge would first consider federal sentencing guidelines in the case.
Copyright © 2007 by Bay City News, Inc. -- Republication, Rebroadcast or any other Reuse without the express written consent of Bay City News, Inc. is prohibited.
####