Berkeley council against Iraq war
but 'supports' armed forces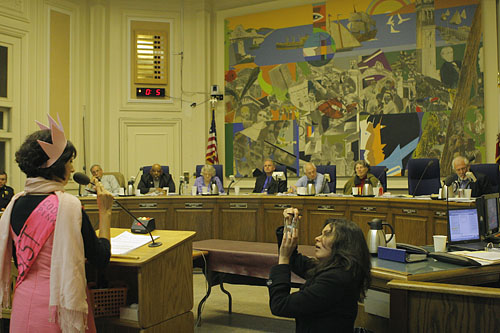 Code Pink member Nancy Mancias urges the Berkeley City Council
to remain steadfast in its opposition to military recruitment efforts.
Photos by John Han and Luke Thomas
By Jeff Shuttleworth
February 13, 2008
Members of the anti-war group Code Pink applauded the Berkeley City Council early today when it ended a marathon meeting by refusing to apologize for a vote two weeks ago that said members of a U.S. Marine Corps recruiting office downtown are "uninvited and unwelcome intruders."
But Ryan Gill, the operations manager for the Sacramento-based pro-troop group Move America Forward, said the council's vote likely will provide more impetus for state and federal legislators who are threatening to cut off funding for several Berkeley programs to retaliate against the city.
At the end of a public hearing that began about 9:45 p.m. Tuesday and concluded at 1:07 a.m. today, the council voted 7-2 to approve what it said is "more clear language" indicating that it recognizes the recruiter's right to locate in "our city" and to emphasize that "we deeply respect and support the men and women in our armed forces."
The council majority also said it wants to "publicly differentiate between the city's documented opposition to the unjust and illegal war in Iraq and our respect and support for those serving in the armed forces."
The council's vote capped more than 24 hours of demonstrations both by veterans and military supporters who said the council should apologize for its Jan. 29 vote against the Marines recruiting office, which has been located at 64 Shattuck Ave. for about 13 months, and by anti-war activists who supported the council and said it shouldn't back down.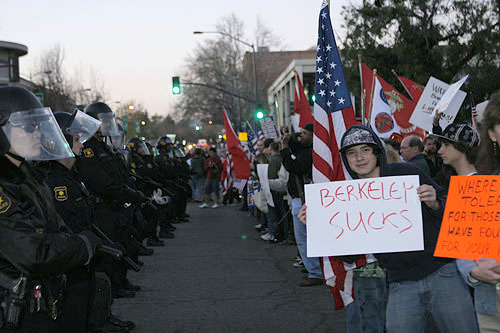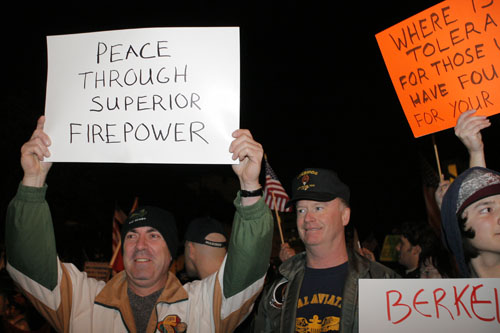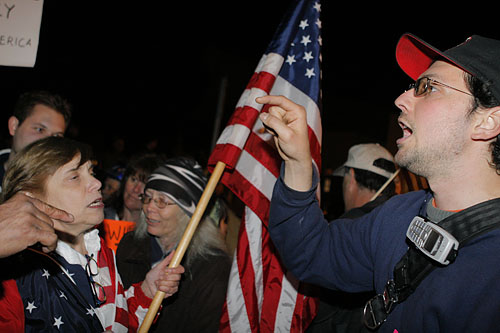 Berkeley police spokeswoman Sgt. Mary Kusmiss said crowd management commanders estimated that about 2,000 demonstrators gathered outside Berkeley City Council chambers on Martin Luther King Jr. Way at the peak of various actions on Tuesday.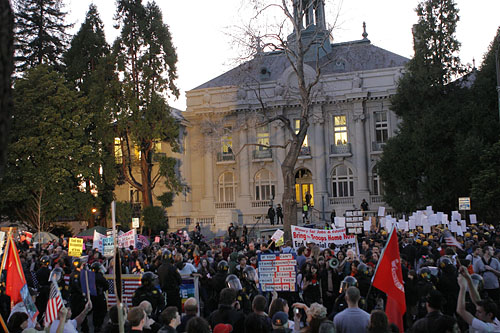 Police dressed in riot gear gathered in the middle of the street to keep the pro- and anti military groups apart.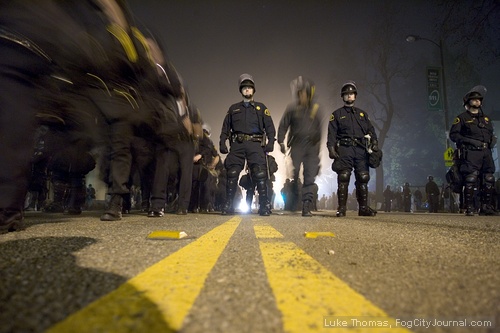 Police succeeded in keeping things calm for the most part, but Kusmiss said four people were arrested on various misdemeanor charges.
She said a 49-year-old pro-military demonstrator from Rocklin was arrested for brandishing a knife after he confronted a Code Pink demonstrator who had draped a banner over him.
Kusmiss said two Berkeley High School students, one 15 and one 13, were arrested for disturbing the peace for challenging a pro-military demonstrator to fight.
She said that after the students were arrested and taken to the Berkeley jail, which is adjacent to City Council chambers, a large group of youths "surged" toward the public safety building, where the jail is located.
Kusmiss said officers protected the building, but an 18-year-old woman demanded to be let inside and then slapped an officer in the face. The woman was booked for resisting arrest and battery on an officer, she said.
In a brief interview after the council finished voting today, Berkeley Mayor Tom Bates said there was no reason for the council to apologize for its Jan. 29 vote.
"What would we apologize for?" he asked.
Referring to the Marines, Bates said, "They were uninvited and unwelcome."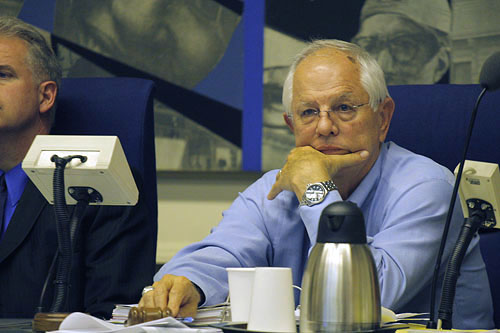 Berkeley Mayor Tom Bates
During the meeting, Bates said, "The Marines have a right to be in Berkeley, but I don't like it. I think it's bad judgment and I wish they would leave and we can suggest that it would be good for them to move on."
The council's 7-2 vote was in favor of a substitute motion written by Bates and council members Max Anderson, Linda Maio and Darryl Moore.
The two "no" votes were cast by Gordon Wozniak and Betty Olds. The council rejected a motion by Olds and Laurie Capitelli that would have rescinded the part of the Jan. 29 vote calling for a letter to be sent to the Marines advising them that the recruiting office is not welcome in Berkeley.
Wozniak told his colleagues, "I think an apology is due. We insulted the Marines and they deserve an apology."
Wozniak said the issue isn't the war in Iraq because the City Council has long been on record for opposing the war.
He said young people should be able to choose for themselves if they want to join the Marines and noted that the recruiting office is targeting potential officers who already in college, not naive 18-year-olds who are still in high school.
He also said the Marines do more than just fight in Iraq, as they also protect U.S. embassies around the world and perform other duties.
Olds agreed with Wozniak's comments, saying, "Insulting Marines and asking them to leave isn't effective."
After the council voted, Wozniak said he's also upset that the council is still on record as applauding groups such as Code Pink that "impede, passively or actively, by nonviolent means, the work of any military recruiting office located in the city of Berkeley."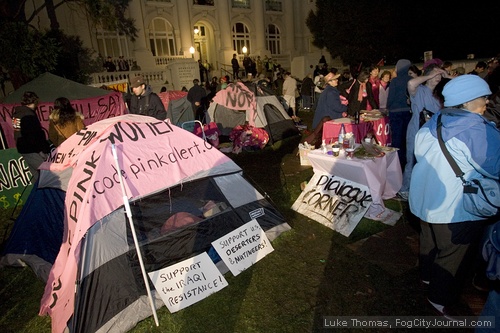 In response to the council's Jan. 29 vote, U.S. Senator Jim DeMint, R-S.C., has proposed that the federal government cut off certain funds for Berkeley, including lunch programs, ferry service and the University of California, Berkeley.
State Assemblyman Guy Houston, R-San Ramon, announced that he plans to introduce legislation that would suspend $3.3 million in state transportation funding from Berkeley.
Houston attended the City Council's meeting and told members "you've embarrassed the country."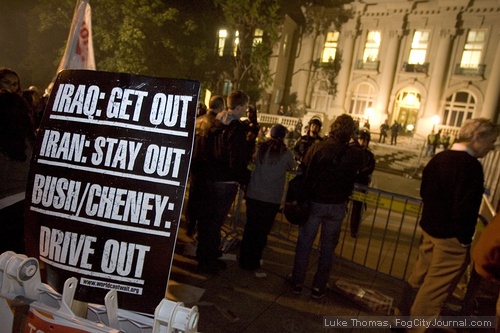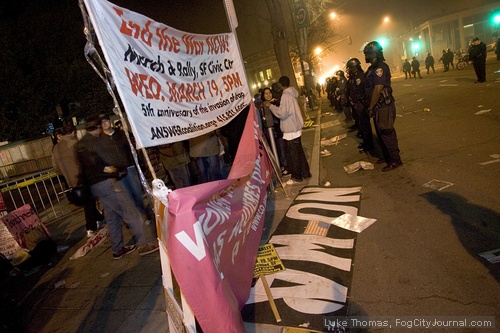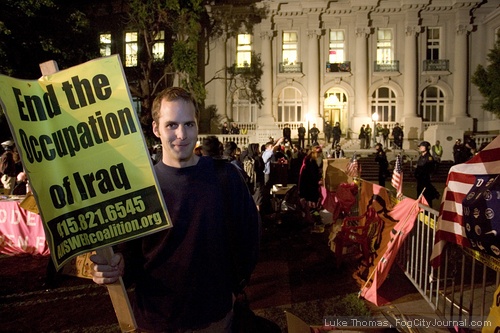 --
####