San Francisco judge upholds Anderson injunction against environment-friendly bicycle plan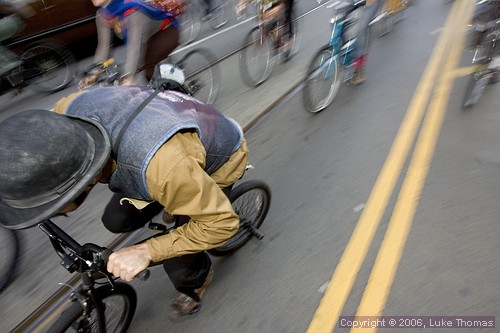 Bicyclists ride along San Francisco's Market Street on the fourteenth anniversary of Critical Mass, an organization dedicated to the promotion of alternative eco-friendly pedal-powered transportation. An injunction, filed by bicycle plan opponent Rob Anderson, was sustained yesterday by California Superior Court judge Peter Busch on the grounds that an environmental impact review is required.
Photo(s) by Luke Thomas
By Brent Begin, Bay City News Service
November 9, 2006
SAN FRANCISCO (BCN) - Proponents of extending San Francisco's network of bike lanes will have to wait for an environmental impact report before moving on with an ambitious bike plan, a Superior Court judge ruled Tuesday.
Judge Peter Busch extended a tentative injunction filed by Rob Anderson in July of 2005 that requires an impact study before groups such as the San Francisco Bicycle Coalition can widen lanes, add signage and install more bike racks.
Bicycle Coalition Executive Director Leah Shahum said the injunction is the work of only a couple of litigious parties.
"It's very frustrating," Shahum said. "What it boils down to is that until the environmental review is finished, no improvements can be made to make bicycling safer in San Francisco."
Anderson filed the injunction because he said a 35-year-old state law called the California Environmental Quality Act requires that all major changes undergo scrutiny.
Shahum said using environmental legislation against a plan that essentially seeks to improve the environment was ironic at best and even mean spirited.
But she also said that her group was confident that the impact report, administered by the city's planning department -- which originally deemed an environmental impact report unnecessary -- would shine favorably on the bike plan.
"It's a general benefit for all," she said. "The people that have to drive will benefit with less cars on the road and more parking. For every person that rides a bike, there's one more parking spot."
She also said she was encouraged that the city attorney's office, along with city leaders, fully support the plan.
Anderson, who could not be reached today for comment, has said he was concerned that the city was rushing into an infrastructure plan without going through the proper planning process.
Copyright © 2006 by Bay City News, Inc. -- Republication, Rebroadcast or any other Reuse without the express written consent of Bay City News, Inc. is prohibited.
####