Microsoft's Gates can't play guitar for U2,
talks tech instead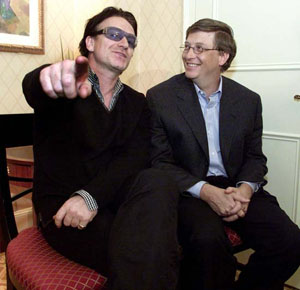 By Jason Bennert
February 20, 2008
Microsoft chairman and co-founder Bill Gates talked about his philanthropy efforts and the key role that students and universities play in technological innovation at Stanford University yesterday.
Stanford students and faculty members filled the university's Memorial Hall to hear Gates, who plans to step away from a full time role at Microsoft this year in order to concentrate on his work with the Bill and Melinda Gates Foundation.
Gates began his talk by playing a humorous video detailing his post-retirement plans, one of which was to replace The Edge as U2's guitarist.
The video included numerous celebrity cameos including Bono, who vainly tried to convince Gates there were no openings in the band. It also included George Clooney, who told Gates he could not star in "Ocean's 14'' because there were no plans to make that film.
On a more serious note, Gates praised Stanford and other universities for the role they play in innovation.
"One of the best investments any company makes is in its research group and in the relationship its research group has with universities,'' Gates said.
Microsoft announced today that it would make its software development tools available for free to high school and college students.
"Students have really been at the heart of a lot of breakthroughs,'' Gates said. "It's a wonderful time to be a student.''
Gates alluded to the fact that he began Microsoft while a student. He later dropped out of Harvard University as Microsoft began to take off. Gates said much of his philanthropic work is concentrated on curing diseases, especially those diseases that are life-threatening in the Third World. He lamented how little money is devoted to finding a cure for many of those diseases such as malaria, which receives much less funding than the search for a cure for baldness.
"The ratio's about 50 to 1 for baldness, malaria of course kills about a million people a year,'' Gates said.
--
Copyright © 2008 by Bay City News, Inc. -- Republication, Rebroadcast or any other Reuse without the express written consent of Bay City News, Inc. is prohibited.
####