Supes consider resolution
to halt Blue Angels flight over San Francisco
By Ananda Shorey
September 13, 2007
A San Francisco Board of Supervisors committee is considering a resolution seeking to permanently halt the U.S. Navy's Blue Angels from flying over the city during Fleet Week in October, Supervisor Chris Daly said today.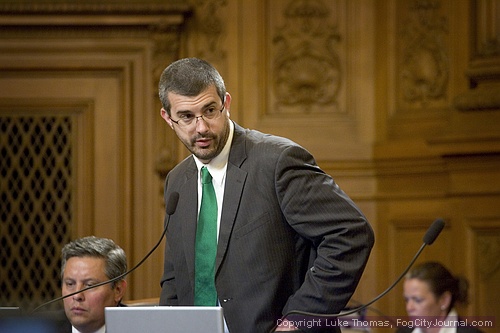 Supervisor Chris Daly
Photo(s) by Luke Thomas
Daly submitted the resolution seeking to permanently halt the show because he believes it poses an unwarranted risk to life and property in this densely populated city.
Daly also said the volume of the jets exceeds the legal limits for the civilian community.
"When the aircraft fly their simulated strafing runs over the concrete and glass canyons of San Francisco's high-rise buildings, the volume is magnified to ear-splitting and nerve shattering levels," his resolution states.
Furthermore, the jets terrorize immigrants from war-torn countries who have experienced air bombardment, and they frighten children, seniors, pets and wildlife, according to Daly.
The Government Audit and Oversight Committee can continue the item, table it or move it to the full board, Daly said.
Since the Blue Angels fly by invitation, even if the resolution gets passed, the show will likely take place this year, Daly said. The main purpose is to halt it for future years, he said.
The Blue Angels' air show has resulted in 26 fatalities nationally during the past 60 years, with the most recent death occurring in April in South Carolina, according to the resolution.
"What if that crash wasn't in very sparsely populated, very rural coastal South Carolina? What if it was in San Francisco's Tenderloin District or Chinatown?" Daly asked. "If this happened over densely populated San Francisco there would be a significant loss of life."
Several groups including CODEPINK, a women-initiated grassroots organization working to end the war in Iraq, and Global Exchange, an international human rights organization that was founded in 1988, support the resolution and also are concerned about safety.
"It is clearly a safety issue and the Blue Angels can have plenty of air space over just the water rather than the city and county of San Francisco," said CODEPINK organizer Nancy Mancias.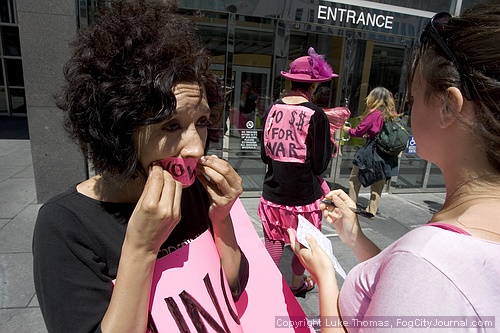 Nancy Mancias, file photo
The Blue Angels had their first air show in Jacksonville, Fla., in 1946. About 15 million spectators see the Blue Angels in air shows each year.
The group's mission is to enhance Navy and Marine Corps recruiting efforts. An annual tradition in San Francisco since 1981, Fleet Week this year is scheduled for Oct. 4-9. The celebration is held to honor those serving in the U.S. Navy, Coast Guard and Marine Corps.
Copyright © 2007 by Bay City News, Inc. -- Republication, Rebroadcast or any other Reuse without the express written consent of Bay City News, Inc. is prohibited.
####