Supes throw caution to the wind,
dismiss Blue Angels crash history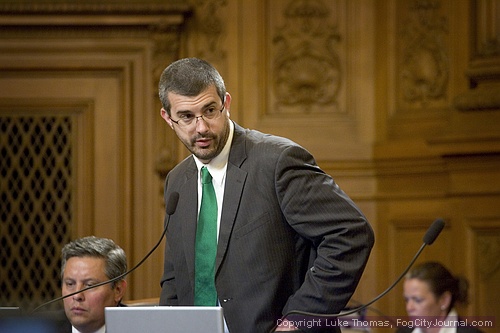 Supervisors threw caution to the wind yesterday in opposing an amended resolution sponsored by Supervisor Chris Daly that aimed to protect the citizens of San Francsico from a potential mass loss of life in the event of a mid-air collision during the annual Blue Angels daredevil show over the City.
Photo(s) by Luke Thomas
By Caitlin Cassady
September 26, 2007
San Francisco Supervisor Chris Daly's hopes of halting the U.S. Navy's Blue Angels show from performing its aerial acrobatics over the city during Fleet Week crashed yesterday when the board of supervisors failed the resolution.
Supervisors voted down the resolution just before 2:30 p.m. Newly appointed interim Supervisor Carmen Chu, who attended her first meeting as the representative for District 4, voted against the resolution.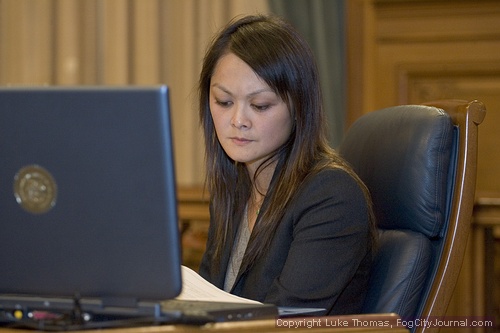 Interim District 4 Supervisor Carmen Chu
After a slight technical problem, Daly showed the board members still photos taken after fatal air accident, which occurred during a Blue Angels show in April in a small rural town in South Carolina.
"Beaufort, South Carolina has a population of 12,950 people,'' Daly said, "and when a Blue Angel plane crashed there eight people on the ground were injured. What would happen if this happened over a heavily populated area like San Francisco?''
Before the supervisors voted on the resolution, Daly addressed the board and reiterated the reasons he believes that the Blue Angels show should be halted.
Daly submitted the resolution because he said it is "not a necessary risk that the city needs to take.'' He believes that having the fighter pilot exhibition over a densely populated area like San Francisco poses an unwarranted risk to life and property.
"It is strictly for entertainment and an accident would cause significant loss of life,'' Daly said.
The Blue Angels had its first air show in Jacksonville, Fla., in 1946. About 15 million spectators see the Blue Angels in air shows each year.
Blue Angels' air shows have resulted in 26 fatalities nationally during the past 60 years.
The group's mission is to enhance Navy and Marine Corps recruiting efforts. An annual tradition in San Francisco since 1981, Fleet Week this year is scheduled for Oct. 4-9. The celebration is held to honor those serving in the U.S. Navy, Coast Guard and Marine Corps.
Following the vote, Daly told Fog City Journal: "The public now knows the position of their supervisors on this issue."
Supervisors Aaron Peskin, Michela Alioto-Pier, Sophie Maxwell, Sean Elsbernd, Carmen Chu, Bevan Dufty and Gerardo Sandoval voted against the resolution.
Supervisors Daly, Tom Ammiano and Ross Mirkarimi voted for the resolution.
Supervisor Jake McGoldrick was absent from the meeting.
Luke Thomas contributed to this report.
Copyright © 2007 by Bay City News, Inc. -- Republication, Rebroadcast or any other Reuse without the express written consent of Bay City News, Inc. is prohibited.
####