Bonds' attorney says no plan to sue
Ex-girlfriend alleges Bonds used steroids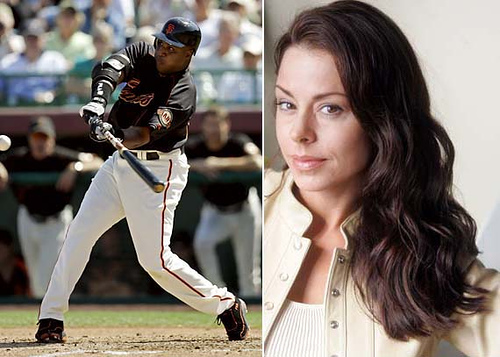 Barry Bonds' ex-girlfriend Kimberly Bell will not be sued for now,
for alleging in a Playboy article that Bonds used steroids.
Composite photo by guano
By Jeff Shuttleworth
October 6, 2007
A lawyer for San Francisco Giants slugger Barry Bonds said Friday he's upset that his ex girlfriend Kimberly Bell alleges in a Playboy magazine article that Bonds used steroids but doesn't plan to sue her at this time.
Oakland attorney John Burris said in a phone interview, "I'm not inclined to recommend suing Kim Bell because she's a disgruntled ex-girlfriend whose credibility on its face is suspect."
Burris, said, "I don't feel we should dignify her comments with a lawsuit. It's gossip and we don't want to involve ourselves in responding to gossip."
Burris alleged that Bell "is trying to cash-in on their so-called relationship and is using the steroids allegation to give enough juice to Playboy that they will pay her."
However, Bell says she hasn't been paid by Playboy, according to a column in Thursday's San Francisco Chronicle.
In a joint statement that he and Burris issued yesterday, San Francisco attorney Todd Schneider said, "We had hoped that Ms. Bell would adhere to basic notions of truth and common decency in her comments to Playboy. Obviously we were wrong."
Burris said, "It is obvious that the lure of a lucrative payday from Playboy magazine has driven Ms. Bell to make these unfounded, unsubstantiated and untrue statements."
Burris said, "Unfortunately, Ms. Bell has simply joined the many others who have cashed in by fabricating stories about Barry Bonds."
On Aug. 13, Burris and Schneider said Bonds is threatening to sue anyone who makes false or misleading statements about him.
Burris and Schneider said Bonds retained them "in connection with legal issues arising from the myriad of false statements attributed to him by players, the media and others."
The attorneys, who are veteran civil rights litigators, said they believe "such statements are defamatory and have legal consequences."
They said they "want the public to know that Barry's silence in the face of the accusations should not be construed as an admission of any kind."
In fact, Burris and Schneider said Bonds retained them "because of the false nature of these statements."
Copyright © 2007 by Bay City News, Inc. -- Republication, Rebroadcast or any other Reuse without the express written consent of Bay City News, Inc. is prohibited.
####