Burmese community confronts China
on support of Myanmar military regime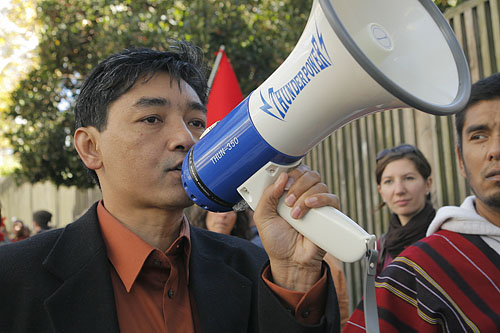 Nyunt Than, president of the Burmese American Democratic Alliance (BADA)
leads a protest Friday outside the Chinese Consulate in San Francisco.
Photo(s) by John Han
By Ari Burack
October 6, 2007
The Bay Area's Burmese community flexed its political muscle Friday with a peaceful protest aimed squarely at the Chinese government's support of the current military regime in Myanmar.
Hundreds of demonstrators lined an entire block outside San Francisco's Chinese Consulate in support of Myanmar's pro-democracy movement, calling on the Chinese government to compel the regime to end its crackdown on monks and protestors.
Chanting and bearing signs such as "Free Burma" and "Democracy for Burma," most came dressed in red colors matching the robes of Buddhist monks who led the recent protest in Myanmar, which began in August. Protestors were joined by groups of monks in silent meditation and prayer.
"Now is the time to help the people of Burma," said Nyunt Than, president of the Burmese American Democratic Alliance, which organized the protest. "We need to act. We need an internationally concerted effort to pressure this regime," he said.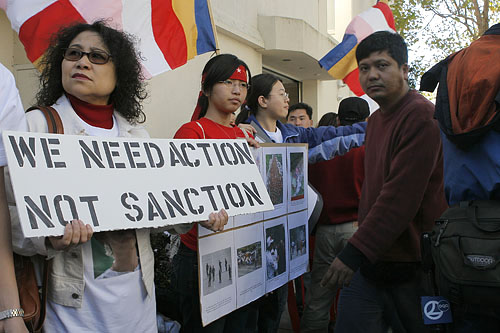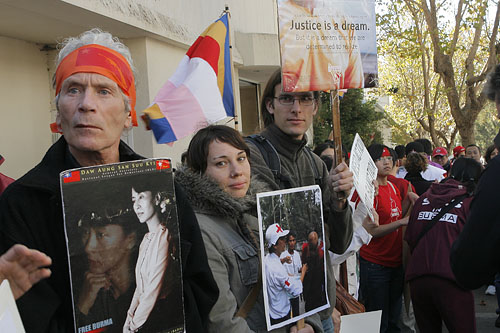 Though news from the country has been trickling out slowly, current estimates put the number of monks and protestors detained in recent weeks in the thousands, Than said. Anywhere from 200 to 6,000 may have been killed, he said.
"We want China to use its influence...to pressure this regime to stop the killing," Than said.
According to Than, neighboring China offers considerable military and economic support to the Myanmar government because of the country's extensive gas and oil reserves.
"So they want to please this regime," Than explained. "For them to be stronger, do we have to be suffering?"
Organizers have also called for a boycott of the 2008 Olympics in Beijing.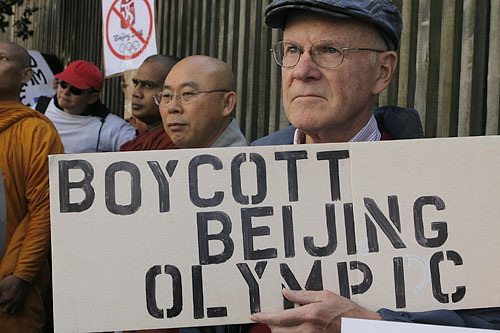 Than said the Bay Area's Burmese population, which numbers about 20,000 to 30,000, was given support by members of the local Tibetan, Vietnamese and Thai communities, as well Christian and Muslim groups.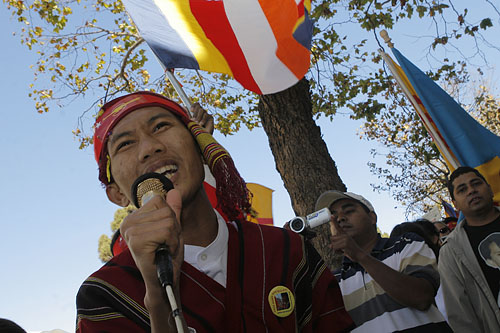 Iew Sit Neing, Burmese activist and student at City Colllege San Francisco.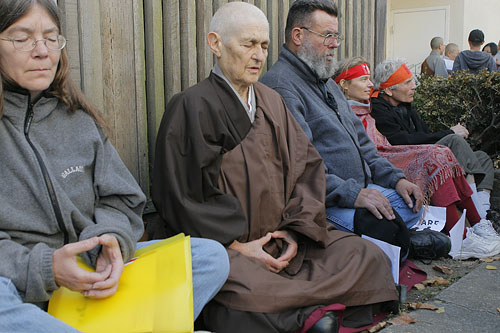 According to BADA board member Nick Harmony, Myanmar's pro-democracy movement has been simmering for decades, and widespread demonstrations in 1988 were met with a massacre of protestors by government troops, he said.
A historic democratic election in 1990 was annulled by the government, which lost the election, Harmony said, and 1991 Nobel Peace Prize winner Aung San Suu Kyi has been under house arrest on and off for about 18 years, Harmony said. Suu Kyi, considered by pro-democracy activists to be the country's true leader, has been kept in solitary confinement for the last four years, Harmony said.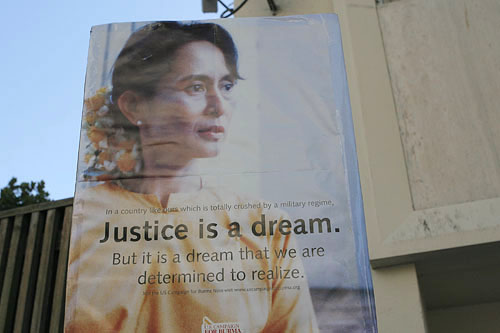 Aung San Suu Kyi
Hundreds of thousands of protestors have turned out countrywide over the last several weeks, spurred by the government's dramatic hike in gas prices in August, Harmony said.
Afterwards, demonstrators marched from the Consulate to Civic Center's UN Plaza where they held more rallies and a prayer ceremony for peace.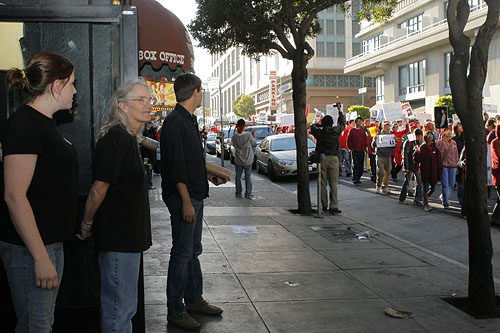 Workers at the Great American Music Hall on O'Farrell St.
watch as demonstrators march by.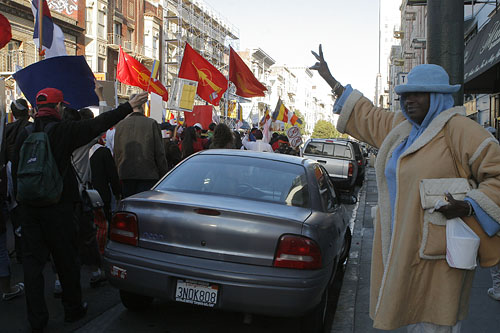 A tenderloin woman makes a peace sign as marchers pass by.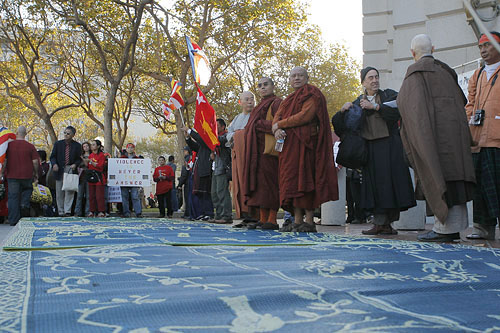 Monks from various Buddhist faiths led a prayer ceremony at UN Plaza.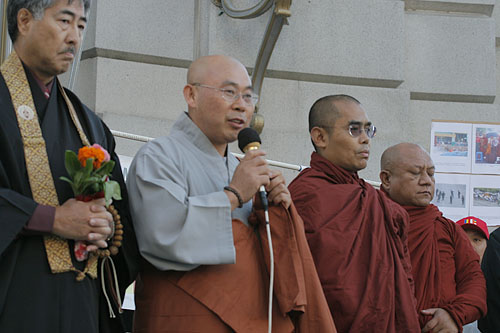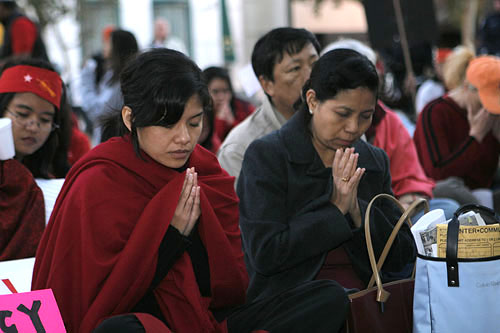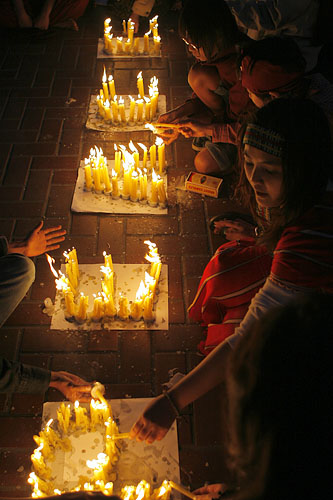 John Han contributed to this report.
Copyright © 2007 by Bay City News, Inc. -- Republication, Rebroadcast or any other Reuse without the express written consent of Bay City News, Inc. is prohibited.
####