Newsom homeless program reaches milestone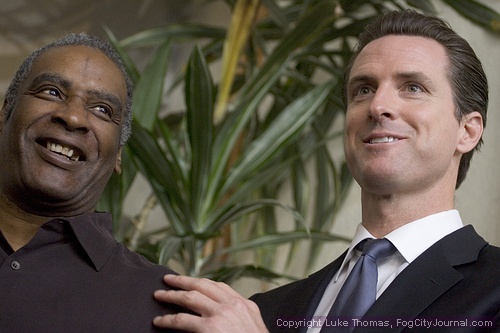 Mayor Gavin Newsom announced yesterday his Care Not Cash program, introduced in 2003, has reached a new milestone in housing over 2000 formerly homeless persons.
Photo(s) by Luke Thomas
By Maya Strausberg
October 5, 2007
San Francisco Mayor Gavin Newsom's Care Not Cash program has officially housed over 2,000 clients, the mayor's office announced yesterday.
Proposition N - passed by voters in November, 2002 - cuts public assistance payments to homeless adult welfare recipients by up to 85% in exchange for services offered by the City.
Since May 2004, 2,062 people have been placed into permanent supportive housing. The housing option offers treatment and case management services on-site, said the mayor's office.
The number of homeless people receiving city welfare money has decreased 86 percent from 2,497 to 361 since 2004, the mayor said. Over 97 percent of those who join the program remain housed or moved on to other stable housing situations, he added.
"Soup kitchens solve hunger, shelters solve sleep, permanent supportive housing solves homelessness," said Newsom.
Newsom's office said the number of individuals living on the street has declined 38 percent since late 2002.
Newsom is now working to establish One Stop Employment Centers to provide job training and placement assistance for those who have recently received housing, said his office.
He first pushed for the program as a supervisor in 2002.
Critics of the program say Care Not Cash housing is neither affordable or permanent and dispute citywide homeless count figures produced by the mayor's office.
Luke Thomas contributed to this report.
Copyright © 2007 by Bay City News, Inc. -- Republication, Rebroadcast or any other Reuse without the express written consent of Bay City News, Inc. is prohibited.
####