Snow, cold weather likely caused death
of Oakland man in Yosemite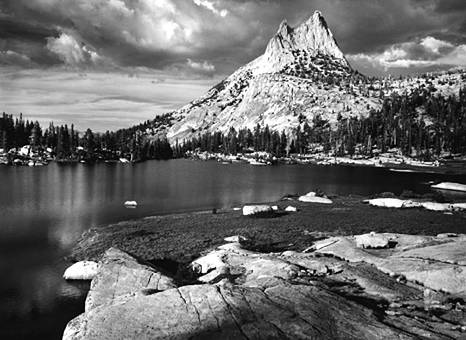 Cathedreal Peak and Lake, Yosemite
Photo by Ansel Adams
By Jeff Shuttleworth
November 13, 2007
Peter Charles Noble, the Oakland man found dead Sunday morning in Yosemite National Park, likely died from exposure to cold weather and snow, park spokesman Scott Gediman said today.
Noble, 43, left Saturday with his friend, Scott Berry for a hike to the top of Cathedral Peak.
The two men, who were experienced climbers, parked their car on Tioga Pass Road in the Tuolumne Meadows area of the park, which is at about 8,000-feet elevation.
Noble and Berry then hiked more than a mile to the base of Cathedral Peak and began the climb, which Gediman said is "a technical, advanced climb" requiring rock climbing equipment.
The climb took longer than expected, and park rangers do not think Noble and Scott reached the peak of the mountain, which is at about 10,940-feet elevation, Gediman said.
When the two men began the hike back to their car in the dark, snow had begun to fall and temperatures had dropped, Gediman said. Tioga Pass Road had been closed due to snow.
Noble became unconscious and died during the hike, Gediman said, and Berry was able to continue the hike to the road.
Berry flagged down a ranger who was on rounds at about 7:30 a.m. Sunday, and Noble's body was discovered about one mile from Tioga Pass Road.
The hike from the base of Cathedral Peak to Tioga Pass Road is not usually difficult, but "it is when it is dark and cold and it is snowing," Gediman said.
There does not appear to be foul play relating to Noble's death, Gediman said.
Pending an upcoming autopsy, the death will probably be ruled as caused by exposure to the elements, according to Gediman.
Copyright © 2007 by Bay City News, Inc. -- Republication, Rebroadcast or any other Reuse without the express written consent of Bay City News, Inc. is prohibited.
####