Newsom adds re-election park improvements
community forum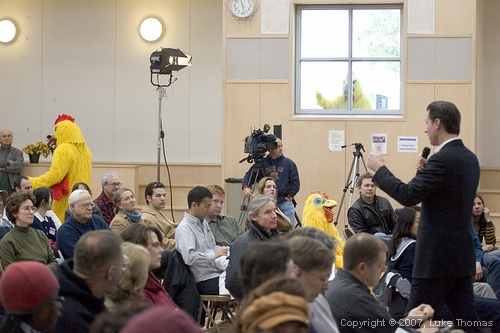 Mayor Gavin Newsom will be holding a 'community forum' on Saturday as part of an ongoing effort to supplant the will of voters requiring the Mayor of San Francisco attend monthly Board of Supervisors meetings.
Photo(s) by Luke Thomas
By Mike Aldux

July 23, 2007
Mayor Gavin Newsom announced a seventh community policy forum to take place Saturday at Jefferson Elementary School.
Newsom says the forum will focus on improving neighborhood parks and playgrounds, improving and creating recreational areas, and public safety and access issues in Golden Gate Park.
The Newsom administration has replaced voter approved Proposition I - requiring tte Mayor of San Francisco attend Board of Supervisor meetings - with scripted community forums.
San Francisco residents will have a chance to voice their suggestions regarding possible improvements to the recreation and parks system in the city, according to a statement issued by the mayor's office.
A resource fair is planned as part of the forum with a variety of city developments scheduled to have information booths, the mayor said.
Jefferson Elementary School is located in District 5 at 1725 Irving St. at 18th Avenue.
Luke Thomas contributed to this report.
Copyright © 2007 by Bay City News, Inc. -- Republication, Rebroadcast or any other Reuse without the express written consent of Bay City News, Inc. is prohibited.
####