Newsom Can't Fake it Anymore Question Time
Excelsior residents succomb to bouts of narcolepsy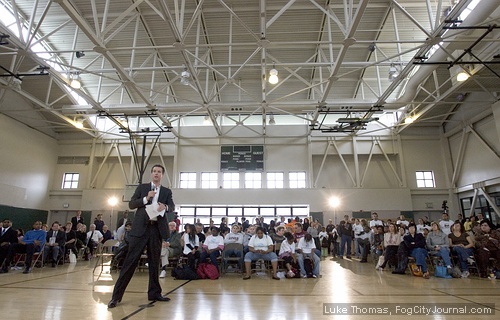 Mayor Gavin Newsom, Saturday, held a district town hall meeting in the family dense enclave of San Francisco's Excelsior district (district 11). The staged event was Newsom's 4th town hall "Question Time" meeting since voters passed Proposition I in November.
Photo(s) by Luke Thomas
By Elaine Santore, special to Fog City Journal

April 22, 2007
The San Francisco blogosphere collectively calls Mayor Gavin Newsom's town hall meeting series "Fake Question Time," deservedly so. However, the latest meeting held Saturday afternoon at the Excelsior Boys and Girls Club, might as well be called "Can't Fake it Anymore Question Time."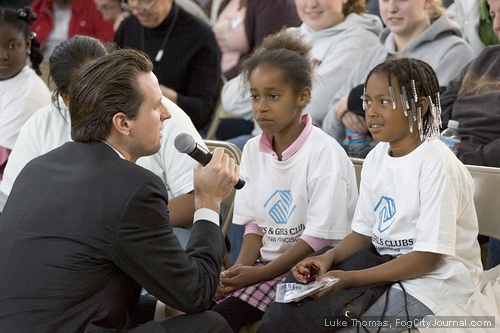 The mayor can't even get high off his own Kool-Aid anymore.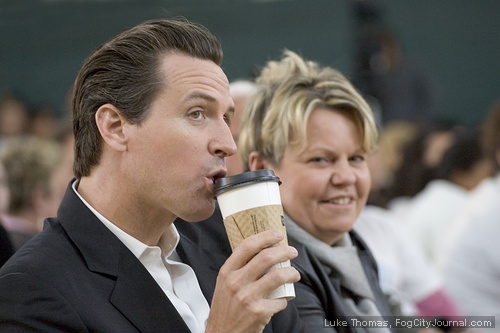 Gavin sippin' the Kool-Aid.
To Newsom's credit, he did answer questions on a subject he's largely responsible for: Families leaving San Francisco (in droves). He can no longer hide his lost credibility behind a slick toothy grin, clichéd expressions and boyish charm. The job is clearly aging him, and he can no longer pretend to care.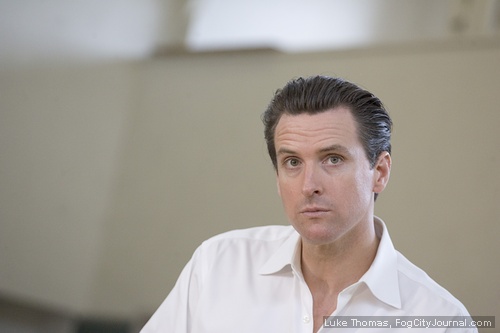 As SFist's Rita Hao deftly noted, Newsom visibly recoiled when I greeted him with "Hey Big G! Holler!" upon his arrival. Newsom kept walking, so I added "Holler for the dollar!" (my pick for the Newsom 2007 campaign slogan).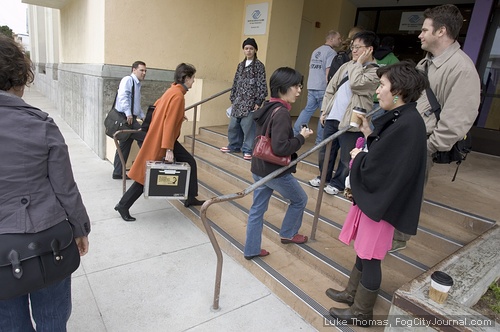 "Gavin did NOT just dis me like that!"
Hao, Chronicle Culture Blogger Eve Batey, and I made our way inside the building, past a grumpy Pat Murphy, who totally snubbed us. Where's the love, Pat?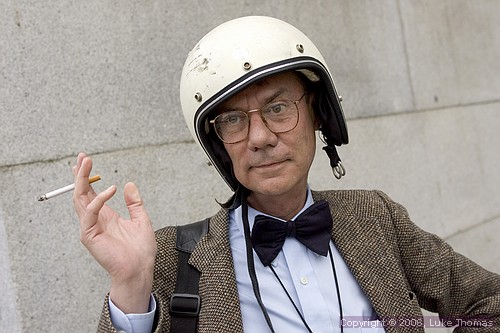 A happier Newsom dutiful defender/Kool-Aider, Pat Murphy
The fourth town hall meeting, or FQT4 for short, opened with a spirited dance performance by some local Excelsior youths. Gavin then opened the meeting graciously thanking a nameless Kool-Aider who brought him his afternoon coffee, just the way he likes it.
Instead of taking completed question cards all though the meeting, like he did at the first three meetings, the audience filled out question forms at the beginning of the meeting.
As each question was selected by Newsom, Newsom then called upon the question author, handed the person a microphone, and then engaged in some back and forth Q&A on the topic Newsom had selectively chose to discuss.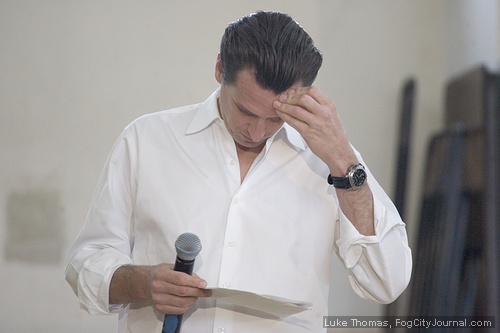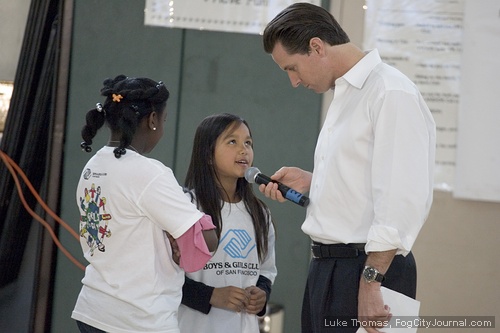 What's your question? Erm, can we like ask you a legitimate question
about Laguna Honda Hospital?
Though this slight alteration might be construed as an effort to inch towards real dialogue, the change did little to assuage defenders of Proposition I, a measure passed by voters in November requesting the Mayor of San Francisco to attend monthly Board of Supervisors meetings, to be held accountable for his policies.
The Executive Director of the Department of Children, Youth, and their Families (DCYF) Margaret Brodkin, co-opted as co-emcee, following in the footsteps of Department of Public Health Director, Mitch "broad discretion" Katz.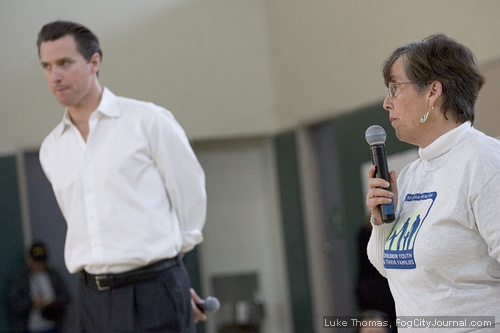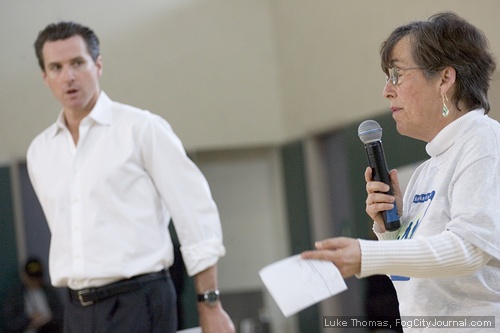 The Gavster and Margaret Brodkin
Choosing to discuss the flight of families from San Francisco proved to be an appropriate topic in an election year, especially in the Excelsior. The Excelsior district is home to the greatest number of San Francisco families.
Mayor's Office of Housing Executive Director, Matt Franklin, did his best to answer questions related to African American flight from San Francisco (aka gentrification). A lack of affordable housing, combined with deplorable public housing conditions, does little to help the situation.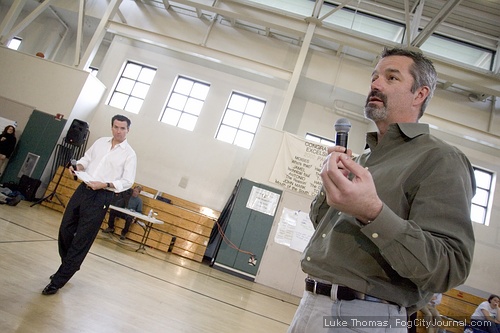 Matt Franklin
Just as everyone began falling asleep, an Oceanview resident lauded the efforts of former Mayor Art Agnos, much to Newsom's evident chagrin. It got everyone's attention but the Gavster was having none of that!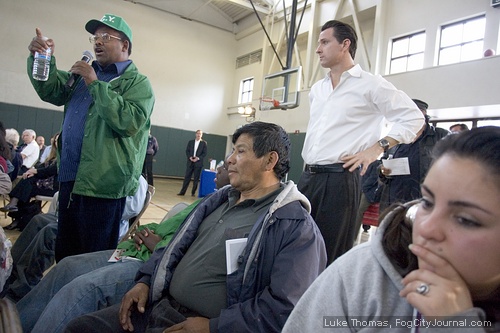 Hmmm.... Art Agnos, yeah, that tent city guy. If only he chose a more suitable location, the plan just might have worked. You know, sort of like a refugee camp for homeless people.
Just imagine if San Francisco First Lady hopeful, actress/fembot Jennifer Siebel, was in attendance. She would've tied her hair back and grabbed some fight night Vaseline for sure.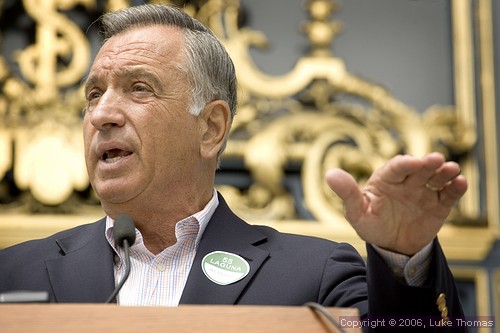 Former Mayor of San Francisco and California Assemblymember Art Agnos,
rumored to be mulling a 2007 mayoral campaign. Hmm…
California Assemblywoman Fiona Ma made an appearance with her dog, Maggie. Ma's district includes the Excelsior. She revealed to Fog City that Newsom is working with her office to secure funding for MUNI public safety cameras.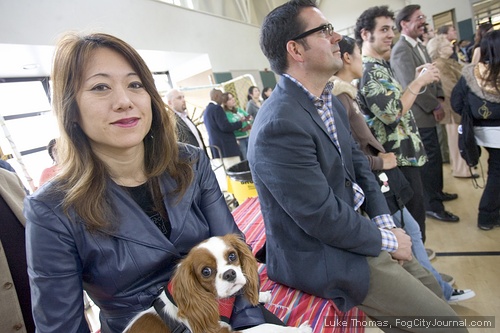 Assemblymember Fiona Ma and Maggie (10 months) with Mayor's Office of Communications straight shooter Nathan Ballard.
Fog City Journal was unable to make additional inquiries concerning rumored wedding bells in Botswana. However, our in-depth investigation remains ongoing. Stay tuned for further updates.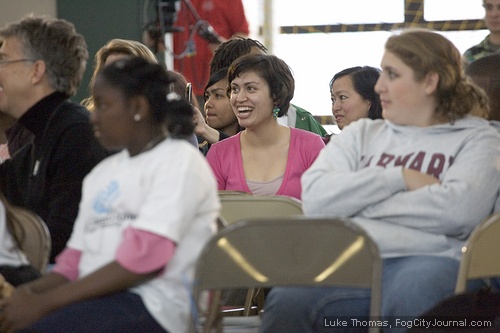 Elaine Santore (center) fakes a laugh during Fake Question Time 4.
####