City Attorney says Ed Jew's proof is insufficient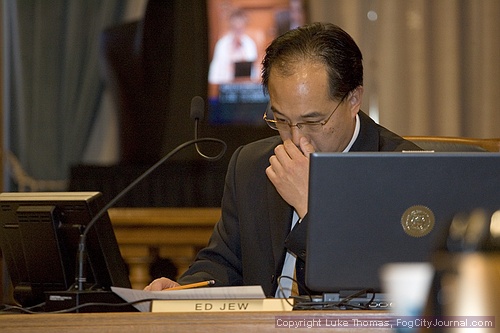 Embattled Supervisor Ed Jew.
Photo(s) by Luke Thomas
By Tamara Barak

June 12, 2007
San Francisco's city attorney claims Supervisor Ed Jew has not responded adequately to the investigation into whether the supervisor lives in the district he represents.
In correspondence sent to Jew's attorney today, City Attorney Dennis Herrera claims Jew did not fully respond to the city's request for documentation that would prove that the supervisor lives at 2450 28th Ave. in the Sunset District.
Last week, Jew provided the city attorney's office tax returns for 2005 but not for last year, he ignored requests for cable and telephone bills and provided incomplete responses to requests for homeowner's tax exemptions and renters tax credits, according to the letter from Herrera to attorney Steven Gruel.
According to the city attorney, Gruel told Herrera that Jew was unable to provide all the documentation requested because the FBI seized some items during its search on Jew's properties last month.
The FBI's public corruption unit is reportedly investigating $40,000 in cash Jew allegedly accepted from a group of businessmen having permit problems. Jew denies wrongdoing.
Gruel was in court in Los Angeles today and was not available for comment, a representative of his office said.
Herrera has given Jew a new deadline - this Friday - to provide all documentation proving he lives in the Sunset District. The city attorney has also asked for a copy of the search warrant receipt from the FBI and a list of documents Jew believes were taken by federal agents.
Herrera also claims Jew is willing to talk to the media but has refused to be interviewed by city attorney's office investigators.
"If your client is able to make statements to the press regarding the status of his residency, then we do not understand why he is unwilling to make statements on the record to this office," Herrera wrote to Gruel.
Copyright © 2007 by Bay City News, Inc. -- Republication, Rebroadcast or any other Reuse without the express written consent of Bay City News, Inc. is prohibited.
####