Ed Jew coverage at a glance
Newsom ousts Jew, names Carmen Chu as interim replacement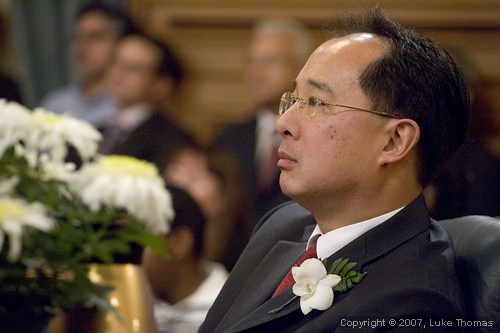 District 4 Supervisor Ed Jew
Photo(s) by Luke Thomas
By Luke Thomas
Updated: September 26, 2007
May 18, 6:10 p.m: A source at City Hall tells Fog City a Federal Bureau of Investigations agent raided District 4 Supervisor Ed Jew's City Hall office today, at approximately 4:00 p.m. The FBI agent was accompanied by a Department of Telecommunications and Information Services (DTIS) official.
According to our source, the FBI agent wore blue rubber gloves and was inspecting Jew's computer systems for evidence of recorded cash transactions.
The source also says Jew's home, business, and other properties have been raided by the FBI.
6:45 p.m: According to a source, the FBI investigation and subsequent raid is related to alleged tax evasion and corruption, stemming from a cash transaction of $40,000 exchanged between Jew and a group of businessmen seeking help in obtaining permits.
The official FBI statement on the matter: "The FBI executed sealed search warrants on Friday, May 18, 2007, in San Francisco involving federal, potentially criminal, allegations."
May 19, 12:08 p.m: Board President Aaron Peskin tells Fog City he spoke with Jew today and recommended Jew secure the services of an attorney.
May 21, 11:40 a.m: Jew hires attorney Steven Gruel, releases statement. Gruel is a former federal prosecutor with 16 years experience working with the Federal Bureau of Investigation.
May 23, 1:00 p.m: Jew takes a trip to China. Spokesperson says trip was pre-planned.
3:38 p.m: The City Attorney's office has released copies of correspondence between Jew and the City Attorney. The exchange includes a letter from Jew claimiing his father's right to privacy has been violated. The City Attorney responds requesting Jew to provide supporting evidence of Jew's true place of residence, and subsequently launches an official investigation.
May 25: City Attorney extends deadline to June 8 for Jew to provide supporting proof of residency.
May 26: Troubles continue to mount with the revelation that Jew is part owner of a building that houses an unlicensed medical marijuana club.
June 4: Jew returns from trip to China.
June 5: The Chronicle reports Jew a held a press conference within hours of his return from China. The press conference included a tour of Jew's "sparsely decorated and furnished" Sunset District residence that Jew claims is his primary residence.
Only Chinese media organizations were invited to attend the press conference.
In a column published in the June issue of the Sunset Beacon newspaper, Jew wrote "I have no intention of resigning my office."
Jew is expected to attend today's Board of Supervisors meeting at 2.00 p.m.
June 5, 6:00 p.m: Jew and Gruel speak to ABC7's I-Team. Jew says he is 32 generations removed from a Chinese emperor.
Gruel says, "There's nothing inherently wrong with cash, but I think it's a good learning experience for the supervisor."
June 6: Jew says he'll meet June 8 deadline to show proof of residency.
June 7: City Attorney releases statement on documents received from Jew.
June 11, 4:00 p.m: City Attorney releases letter to Attorney Steven Gruel. The letter indicates Jew has not, to date, provided adequate documentation to support Jew's proof of residency.
"The documents your client provided to us do not persuasively demonstrate that he [Jew] resided in District 4 under the requirements of the charter."
City Attorney requests interview with Jew.
New deadline date to show proof of residency extended to Friday, June 15.
June 12, 4:00 p.m: The City Attorney's Office releases correspondence from Gruel, dated June 12. Gruel is responding to Deputy City Attorney Chad Jacobs June 11 letter indicating Jew has not provided adequate proof of residency.
In his letter, Gruel says Jacobs deceived him. "You either cynically misled me or your managers completely usurped our working relationship," Gruel writes.
"Either way, I have never witnessed a greater degree of "sandbagging" in 22 years of practicing law," Gruel states.
Gruel accuses the City Attorney's office of inflaming public opinion against Jew for political reasons.
Jacobs responds: "None of your characterizations of our offices motivation are remotely accurate."
5:02 p.m: District Attorney files criminal charges against Jew.
Jew's criminal attorney Bill Fazio has been contacted by the District Attorney's Office requesting Jew to turn himself in to authorities in a "timely manner."
5:55 p.m: Mayor Gavin Newsom releases the following statement on the criminal charges filed against Jew:
"This afternoon the district attorney informed me that her office has filed criminal charges against Supervisor Ed Jew. These serious charges go to the heart of the integrity of the electoral process. I will carefully review the facts of this matter as the City Attorney, the district attorney and the FBI continue to investigate these serious issues."
6:31 p.m: Board President Aaron Peskin is intimating Jew should resign.
10:38 p.m: Jew turns himself in to Burlingame police. He is released after posting bail.
June 13, 5:45 p.m: The City Attorney's Office releases correspondance, dated June 13, addressed to defense attorneys Gruel, Fazio and James Sutton.
Written by Deputy City Attorney Therese Stewart, the letter states the City Attorney will not lift its June 15 deadline requiring Jew provide investigators proof of residency.
Fazio, according to Stewart, wrote a letter requesting the City Attorney "hold off and abstain from further action until the criminal matter is resolved."
A separate request from Gruel and Sutton is asking the City Attorney for a one-week extension to the deadline.
Both requests have been denied.
Meanwhile, Jew refuses to resign.
June 15, 11:00 a.m: Supporters hold rally for Jew.
5:39 p.m: City Attorney Press Secretary Matt Dorsey releases the following statement after the June 15 deadline passes:
As of today's 5 p.m. deadline set by the City Attorney's Office for Sup. Ed Jew to provide additional information pertaining to this office's investigation into questions surrounding the supervisor's residency, no further information has been provided by the supervisor.
At this time, City Attorney Dennis Herrera is evaluating all the evidence uncovered in his office's investigation. He will announce the results of his investigation in the coming days.
June 17, 2007: 8:20 p.m: Herrera announces press conference:
Herrera to Announce Findings of Sup. Jew Residency Investigation at Press Conference
*** MONDAY MORNING, 10 A.M. ***
SAN FRANCISCO (June 17, 2007) -- City Attorney Dennis Herrera will announce the findings of his office's investigation into questions involving Supervisor Ed Jew's residency at a City Hall press conference Monday morning at 10 a.m.
WHAT: Press Conference
WHO: City Attorney Dennis Herrera
WHEN: Monday, June 18, 2007 at 10:00 a.m.
WHERE: City Attorney's Office Conference Room (#234)
June 18, 11:01 a.m: Herrera cites "ovewhelming evidence" against Jew in seeking his removal from office.
1:30 p.m: Fazio fires back, says City Attorney and District Attorney are competing for public attention.
June 20: The Chronicle reports Mayor Gavin Newsom is stepping up pressure on Jew to prove his residency.
"The fact that I am reviewing the charter and my role ... is suggestive of the fact that there are concerns," Newsom said.
"The accusations are codified in two reports and suggest that Ed Jew needs to step up now and make it clear why they are both wrong."
July 3: 7:29 p.m: Defense lawyers file brief requesting Attorney General deny City permission to seek Jew's removal from office, Herrera responds.
July 5: Jew's attorneys respond to charges sought by Herrera
July 11: Newsom awaits City Attorney report on Ed Jew.
July 13, 2:43 p.m: City Attorney files reply brief in response to Jew's attorney, Steven Gruel
The City Attorney's quo warranto reply filing with the Attorney General is available in its entirety on the City Attorney's Web site at the following URL:
http://www.sfgov.org/cityattorney/
"You will additionally find there a copy of today's letter from Deputy City Attorney Chad Jacobs, which responds to some of the baseless allegations made by Steven Gruel, one of the attorneys for Sup. Ed Jew."
July 27: Residents testify Supervisor Ed Jew wasn't living in Sunset neighborhood home.
July 30: Prosecutor says only junk mail is delivered to Jew's San Francisco home
August 1: Loan application sinks Jew. Judge orders Jew to stand trial.
September 12: Jew rejects plea deal requiring his resignation.
September 20: Feds charge Jew with mail fraud.
September 21: Jew enters plea of not guilty in federal court.
September 25: Newsom ousts Jew, names Carmen Chu as interim replacement.
####