Jew seeks hearing in extortion case
"Known facts raise serious issues and suspicion"
Attorney for Gruel responds:
"As a citizen, Mr. Gruel passed on information to the FBI
that had absolutely no evidentiary value"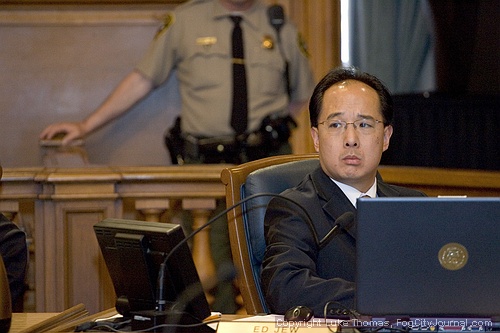 Former District 4 Supervisor Ed Jew is seeking to hold an evidentiary hearing
on possible goverment misconduct.
Photos by Luke Thomas
By Julia Cheever
February 20, 2008
Former San Francisco Supervisor Ed Jew asked a federal judge yesterday to hold an evidentiary hearing on possible government misconduct related to an alleged conflict of interest by Jew's former defense attorney.
Jew, 47, who resigned from his supervisor post last month, is accused in federal court in San Francisco of trying to extort $84,000 from local business owners in exchange for help in obtaining city permits.
His current lawyer, Stuart Hanlon, filed a motion asking U.S. District Judge Susan Illston to consider at a March 21 court session whether to schedule a future evidentiary hearing.
Hanlon wrote that Jew is not alleging actual misconduct by prosecutors at the moment, but said "the known facts raise serious issues and suspicion." He said an evidentiary hearing is needed to determine whether there is a basis for a defense motion for dismissal of the charges.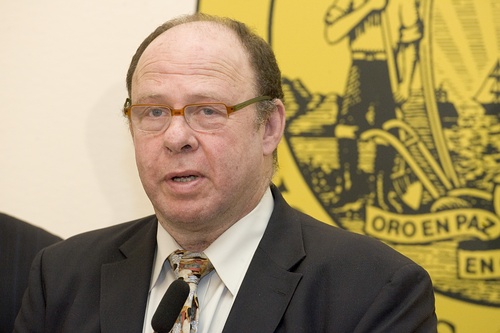 Defense Attorney Stuart Hanlon
Hanlon claims Jew's former lawyer, Steven Gruel, had a conflict of interest because Gruel told the FBI last May 2 about the alleged shakedown, allegedly at the behest of State Sen. Leland Yee, D-San Francisco/San Mateo, described by Hanlon as "a known political opponent" of Jew. Gruel, now a private defense attorney, had contacts within the FBI because he was formerly a federal prosecutor.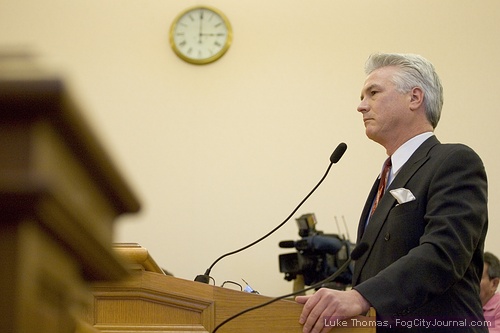 Defense Attorney Steven Gruel
Eighteen days later - after an FBI search allegedly turned up $10,000 in marked bills at Jew's house in Burlingame - Gruel became Jew's defense attorney.
Hanlon contended in the motion that a conflict waiver signed by Jew didn't explain Yee's role and that prosecutors may have engaged in misconduct by failing to investigate the conflict adequately or tell the judge about it.
U.S. attorney's office spokesman Joshua Eaton said prosecutors had no comment, but will respond later in a written answer that is due by March 11.
Gruel said he couldn't comment on the case because of attorney-client confidentiality. But Gruel's attorney, Richard Zitrin, said, "I believe this pleading is nonsense."
Zitrin, a legal ethics professor, said, "Steven Gruel did not have a conflict of interest and did absolutely nothing wrong. He disclosed what he had to disclose.
"Mr. Hanlon must be really concerned about the evidence to blow such transparent smoke as this," Zitrin charged.
Adam Keigwin, a spokesman for Yee, said the senator couldn't comment beyond a Jan. 14 statement in which Yee said he was told about the alleged extortion last April and "it was my ethical responsibility to inform the proper law enforcement officials to investigate."
Hanlon says in the filing that Yee was allegedly told of the shakedown accusation by Jaynry Mak, who unsuccessfully ran against Jew for the Sunset District supervisor seat in 2006.
The attorney contended that an evidentiary hearing may show that prosecutors' failure to investigate the conflict "allowed for a criminal investigation of Mr. Jew to take place that was tainted by Leland Yee and Jaynry Mak."
Hanlon wrote, "It is not only concerning, but baffling, that the accusations that began this entire investigation came from Mr. Jew's own attorney."
Jew, the owner of a Chinatown flower shop, is accused in a Nov. 6 grand jury indictment of five counts of mail fraud, bribery and extortion for allegedly soliciting $84,000 from the owners of eight tapioca drink shops and a dessert cafi seeking city permits.
He also faces separate state criminal charges of perjury, election code violations, voter fraud and providing false documents when he allegedly lived in Burlingame rather than San Francisco when running for office.
More info
Gruel's defense attorney Richard Zitrin released the following statement to Fog City Journal today:
Legal Ethics Expert Calls Conflict of Interest Motion against Ed Jew's Former Attorney 'Nonsense'
San Francisco, Calif. (February 20, 2008) - Highly-respected legal ethics expert and attorney Richard Zitrin today criticized the motion filed Tuesday in U.S. District Court by former San Francisco Supervisor Ed Jew's new legal counsel.
The motion alleges that former supervisor Jew is the victim of a "calculated attack" that includes his past attorney, Steven Gruel, even though Gruel, in Zitrin's words, "did absolutely nothing wrong." In fact, before agreeing to represent Jew, Gruel disclosed his limited involvement in the initial FBI investigation, and Jew signed a written waiver of any conflict of interest.
"As a citizen, Mr. Gruel passed on information to the FBI that had absolutely no evidentiary value," said Zitrin, a professor of legal ethics for 30 years and a practicing lawyer with expertise in attorneys' ethics and conflicts of interest, who has also been a certified criminal law specialist. "When Jew later asked Gruel for representation, Gruel promptly disclosed what had occurred. I can't imagine what purpose this motion serves unless it's an effort to distract people from the real issue, which is Mr. Jew's guilt or innocence. This motion looks like nonsense to me."
Initially, Gruel alerted the FBI to the allegations about Jew after he was told by state Sen. Leland Yee (D-San Francisco) that the supervisor was allegedly extorting money from a business owner. Yee heard about the allegations from Jew's rival candidate in the November 2006 race for the District 4 board seat, Jaynry Mak, who had been contacted by a store owner, according to FBI documents. Last November, a federal grand jury indicted Jew on two counts mail fraud, two counts bribery and one count extortion in connection with a bribery scheme involving the franchise owners of Quickly tapioca drink shops.
Despite previous assertions by Jew's attorney Stuart Hanlon, said Zitrin, neither Yee or Mak have been ever been clients of Gruel's. Hanlon was apparently confused when he said that Mak's father, not Mak, was the candidate that ran against Jew.
Federal prosecutors will file a response to the motion on March 11.
--
Copyright © 2008 by Bay City News, Inc. -- Republication, Rebroadcast or any other Reuse without the express written consent of Bay City News, Inc. is prohibited.
####