Feds charge Ed Jew with fraud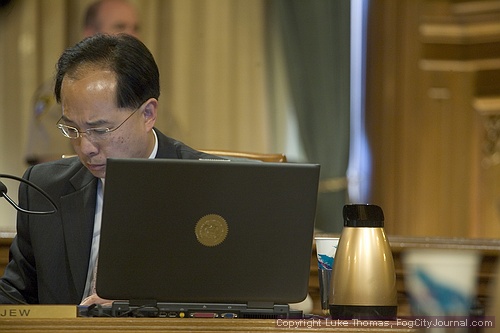 Embattled Supervisor Ed Jew was charged today with fraud by federal authorities
in connection with an alleged solicitation of a $40,000 cash bribe.
Photo(s) by Luke Thomas
By Julia Cheever
September 20, 2007
San Francisco Supervisor Ed Jew - already facing state criminal charges of lying about his residence - was hit today with separate federal charges of fraud in allegedly soliciting a $40,000 bribe to help a tapioca drink business obtain permits.
Jew, 47, is scheduled to surrender and make an initial appearance before U.S. Magistrate Elizabeth Laporte in San Francisco on Friday morning, according to U.S. Attorney's Office spokeswoman Natalya LaBauve.
Jew was charged in a complaint filed by prosecutors in U.S. District Court in San Francisco today with one count of using the U.S. mail in a scheme to defraud the public of his honest services.
An affidavit by FBI agent Christopher McDonough that was filed with the complaint alleges that he received $40,000 in cash May 7 from representatives of Quickly USA, a Taiwan based chain that sells tapioca and milk tea beverages.
The affidavit alleges that in a conversation recorded by the FBI, Jew told the Quickly representatives that an associate would help with paperwork to get needed permits while Jew would be "in the back."
McDonough alleges that Jew said, "Right now, I'm helping you from the inside."
The count carries a theoretical maximum penalty of 20 years in prison if Jew is convicted, but the actual sentence would be determined after consideration of federal sentencing guidelines.
Jew's lawyers, Steven Gruel and William Fazio, were not immediately available for comment. U.S. Attorney Scott Schools said, "Elected representatives owe a duty of honest services to the people they serve. Officials who deprive the public of their right to these honest services must be held accountable for their actions."
The affidavit alleges Jew had agreed to receive a total of $80,000 from the owners of eight San Francisco stores and received half of that amount in the meeting at Jew's flower shop in the city May 7.
McDonough said in the affidavit that in an interview with the FBI on May 18, Jew told agents that he gave $20,000 of the money to his associate, whose name is not given in the affidavit, and was planning to give most of the remaining $20,000 to charity.
In the state court case, Jew's pending San Francisco Superior Court trial on nine felony charges was postponed Wednesday. It is now scheduled for Oct. 26.
Jew is accused in that case of falsely claiming residency in San Francisco and lying on official documents leading up to his successful bid for a seat representing the Sunset District on the San Francisco Board of Supervisors in 2006.
Editor's Note: An online copy of the complaint is available here.
Copyright © 2007 by Bay City News, Inc. -- Republication, Rebroadcast or any other Reuse without the express written consent of Bay City News, Inc. is prohibited.
####