Ethics Commission to hold preliminary hearing
regarding Jew suspension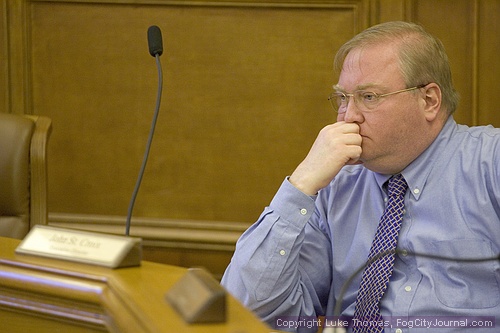 Ethics Commission Executive Director John St. Croix will hold a preliminary hearing this month to set up ground rules and procedures for a public hearing regarding Supervisor Ed Jew's suspension from office.
Photo(s) by Luke Thomas
By Caitlin Cassady
October 4, 2007
A preliminary hearing will be held this month by the San Francisco Ethics Commission to set up procedures for a public hearing regarding the suspension of Supervisor Ed Jew.
Independent counsel is being lined up for the commission, said John St. Croix, the group's executive director. Once counselors have been retained, a preliminary hearing will take place.
City Attorney Dennis Herrera is representing San Francisco Mayor Gavin Newsom in matters regarding Jew, so independent counsel is required to avoid charges of conflict of interest, St. Croix said.
The preliminary hearing will be held to decide on the exact procedures to be taken during the public hearing, St. Croix said. Because the commission has never had to hold such a hearing there is no definitive procedure to follow.
Once the preliminary hearing has taken place, a public hearing will be held by the commission, which will decide whether they believe Jew's suspension should become permanent, or whether they think he should be restored as supervisor of District 4.
A transcript of the public hearing will then be given to the San Francisco Board of Supervisors, which will then have 30 days to act upon the recommendation, St. Croix said. If the supervisors don't vote on the recommendation within 30 days Jew will automatically be restored to his post.
Jew has pled not guilty to the nine felony charges he is facing in connection with alleged violations of the city elections code. There is a question of whether Jew actually lives in the district that he represents and whether he misrepresented his residence in candidate nominating documents to run for office.
Copyright © 2007 by Bay City News, Inc. -- Republication, Rebroadcast or any other Reuse without the express written consent of Bay City News, Inc. is prohibited.
####