Attorney: Ed Jew a victim of misunderstanding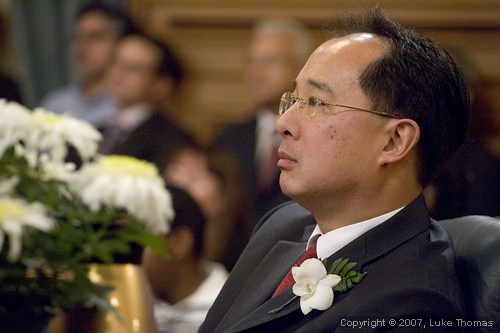 District 4 Supervisor Ed Jew is the subject of a federal investigation
into alleged corruption and tax evasion.
Photo(s) by Luke Thomas
By Tamara Barak

May 21, 2007
The attorney for a San Francisco supervisor under investigation by the FBI said this morning that his client is the victim of a misunderstanding.
A search warrant executed on Ed Jew's home and city hall office Friday is not evidence of the supervisor's guilt, San Francisco attorney Steven Gruel said today.
"A search warrant is a common investigative technique to determine if there has been any wrongdoing - it is not a barometer of guilt," Gruel said in a statement released this morning. "Ed Jew has not been charged, nor has he been accused - I caution everyone against drawing conclusions based on a search warrant. My client is cooperating fully to clear up this apparent misunderstanding."
Jew is prohibited from commenting or answering any questions about the investigation without assistance from his attorney, according to Gruel.
FBI Special Agent Joseph Schadler confirmed that agents from the FBI's public corruption unit searched Jew's office and other properties owned by the supervisor on Friday.
Schadler said he could not confirm whether Jew's reported acceptance of $40,000 in cash from a group of businessmen was the subject of the probe.
"We're investigating allegations that could lead to federal charges," Schadler said. "We're at the search warrant stage. There have been no charges filed. If that ever happened, there would be more public information."
Jew has said in media reports that the businessmen, owners of Quickly tapioca drink shops, told the FBI that the he pressured them into hiring a political consultant to resolve some permit issues. Jew acknowledged recommending the consultant, but denied doing anything illegal. He said the men insisted on giving him $40,000 in cash to pay the consultant.
The FBI is not investigating allegations that Jew does not live in the Sunset District, which he represents.
"That would be a local issue," Schadler said.
David Miree, a spokesman for San Francisco Mayor Gavin Newsom, said the mayor feels "there is no rush to judgment at this time and we'll wait to see what the official investigation yields before we see if we need to take any action by the city."
But the allegations have left some of Jew's fellow supervisors with questions of their own.
"The buck stops with Ed, and he has to be accountable. He has a lot of explaining to do," Jew's colleague, Supervisor Tom Ammiano, said this morning.
While he acknowledged that Jew might be innocent, "there are ethics laws about taking cash and not declaring it. It all smells really bad," Ammiano said.
Supervisors are waiting to see the results of the FBI probe, but wouldn't shy away from conducting their own investigation if it became necessary, Ammiano said.
The entire matter is frustrating in light of the good work done by the Board of Supervisors, he said.
"It really does frustrate me, because I think the board - for all its dysfunction at times - is a good board. This is a real spoiler."
Supervisor Sophie Maxwell said today that she will save her judgment until after an investigation is conducted.
"In this country we're innocent until proven guilty, so that's where I am. There will be a process and an investigation is under way and I will save my judgment until after that."
Copyright © 2007 by Bay City News, Inc. -- Republication, Rebroadcast or any other Reuse without the express written consent of Bay City News, Inc. is prohibited.
####