Feds raid Office of Supervisor Jew
Evidence seized in investigation
of alleged corruption and tax evasion
Jew takes trip to China
City attorney releases copies of correspondence
between Jew and the city attorney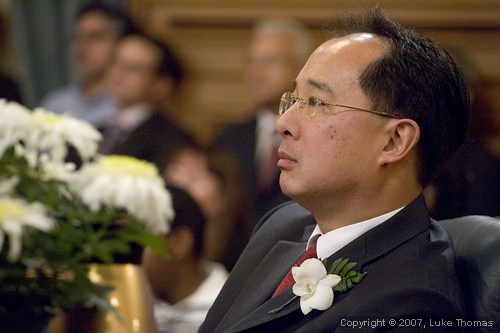 District 4 Supervisor Ed Jew
Photo(s) by Luke Thomas
By Luke Thomas
May 18, 2007, 6:10 p.m.
A source at City Hall tells Fog City a Federal Bureau of Investigations agent raided District 4 Supervisor Ed Jew's City Hall office today, at approximately 4:00 p.m. The FBI agent was accompanied by a Department of Telecommunications and Information Services (DTIS) official.
According to our source, the FBI agent wore blue rubber gloves and was inspecting Jew's computer systems for evidence of recorded cash transactions.
The source also says Jew's home, business, and other properties have been raided by the FBI.
6:45 p.m: According to a source, the FBI investigation and subsequent raid is related to alleged tax evasion and corruption, stemming from a cash transaction of $40,000 exchanged between Jew and a group of businessmen seeking help in obtaining permits.
The official FBI statement on the matter: "The FBI executed sealed search warrants on Friday, May 18, 2007, in San Francisco involving federal, potentially criminal, allegations."
May 19, 12:08 p.m: Board President Aaron Peskin tells Fog City he spoke with Jew today and recommended Jew secure the services of an attorney.
May 21, 11:40 a.m: Jew hires attorney Steven Gruel, releases statement. Gruel is a former federal prosecutor with 16 years experience working with the Federal Bureau of Investigation.
May 23, 1:00 p.m: Jew takes a trip to China. Spokesperson says trip was pre-planned.
May 23: 3:38 p.m: The city attorney's office has released copies of correspondence between Jew and the city attorney. The exchange includes a letter from Jew claimiing his father's right to privacy has been violated. The city attorney responds requesting Jew to provide supporting evidence of Jew's true place of residence.
####