Prosecutor says only junk mail is delivered
to Jew's San Francisco home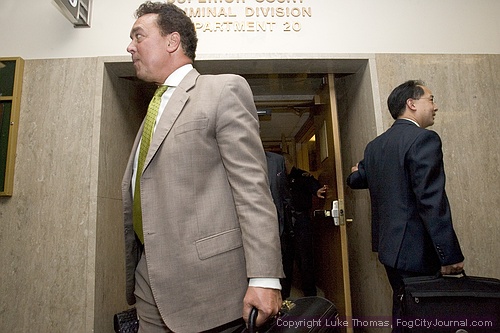 Defense Attorney Bill Fazio and Supervisor Ed Jew emerge from Superior Court, Department 20, following damaging testimony from a U.S. Postal Service inspector.
Photo(s) by Luke Thomas
By Ananda Shorey
July 31, 2007
Only advertisements are regularly delivered to San Francisco supervisor Ed Jew's Sunset District residence, a U.S. Postal Service inspector testified Monday during a preliminary hearing into Jew's alleged violations of the city's elections code.
In the second day of testimony, two letter carriers that regularly deliver mail to Jew's Sunset District home and his Burlingame home said the supervisor regularly received third-class mail -- or junk mail -- at his San Francisco home, while both first- and third-class mail were delivered to his Burlingame home.
"The mail would pile up for a week or two before someone would pick it up," postal Inspector Quan Howard testified in San Francisco Superior Court yesterday.
Jew has pleaded not guilty to nine felony charges related to alleged violations of the city elections code. Prosecutors question whether he lives inside the district he represents and whether he misrepresented his residence in candidate nominating documents.
The type of mail Jew received at his various homes proves nothing, said his attorney, Bill Fazio. "The junk mail is more indicative that he lived there. The mail was in the name of Ed Jew."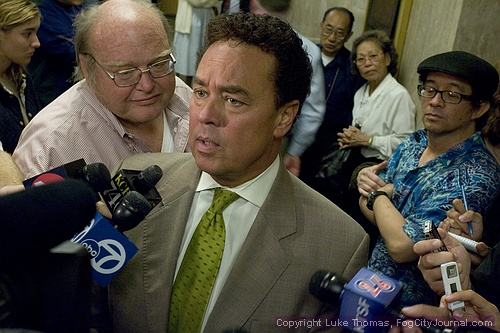 Mail carrier Gregory Tanazawa, who had been delivering mail at Jew's San Francisco address for two years, once told Howard that it didn't appear anyone lived in the home, Howard said.
The defense is not trying to prove Jew spent all of his time at the Sunset District home, Fazio said.
"We're not saying there was a timecard that he punched in and out," Fazio said.
Jew has reportedly been present at his Sunset District home, located at 2450 28th Ave., intermittently since around 1984.
To trace Jew's residency history, Assistant District Attorney Evan Ackiron presented insurance, mortgage, California Department of Motor Vehicle and voting records, as well as garbage and water bills today to try to persuade Judge Harold Kahn that there is probable cause that Jew's primary home is not in San Francisco.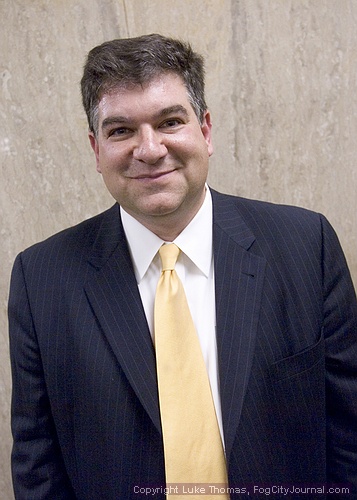 Assistant District Attorney Evan Ackiron
The documents showed that there wasn't garbage service at times and that numerous registered voters had the 28th Avenue residence listed as their home.
Fazio said there are holes in the evidence and that he will prove Jew's primary residence is at his Sunset District home.
"His business is here; his heart is here; his whole soul is here," Fazio said.
Jew is the subject of a separate FBI probe into his alleged acceptance of $40,000 in cash from a group of businessmen having permit problems. Jew denies wrongdoing and no federal charges have been filed.
Supporters for the District 4 supervisor lined up outside court before testimony began a little after 10 a.m. holding signs and passing around petitions. A smiling Jew has chatted with supporters at his previous court appearances, but today his demeanor was more serious and he didn't spend much time talking.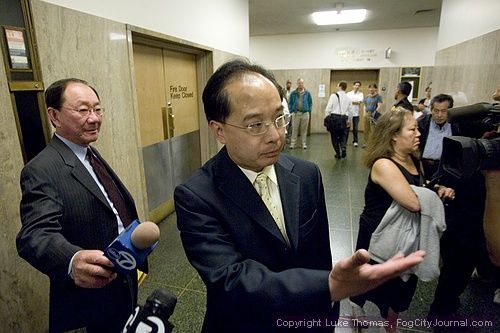 The preliminary hearing is expected to last up to two more days.
At its conclusion, Kahn will rule on whether there is enough evidence for Jew to stand trial.
Copyright © 2007 by Bay City News, Inc. -- Republication, Rebroadcast or any other Reuse without the express written consent of Bay City News, Inc. is prohibited.
####